Gérer les informations temporelles dans et par les modèles informatiques
Temporal information proves to be prominent in many scientific problems. As regards Geography, temporal concerns are often in long or mean term interaction with spatial aspects and calendar issues. Practical and theoretical approaches necessarily cross-reference various viewpoints from several scientific communities. The use of formal models is a means to make languages and practices more accurate and efficient, hence leading to more efficiency (consistency, correction, reusability…). The will to access larger, more and more complex and heterogeneous pieces of information, leads to master the way to populate and query data warehouses and knowledge bases. With several paradigms, computer science, provides models which can express and help solving many current and forthcoming problems. This paper gives an overview of the state of art in the matter of temporal modelling, accompanied with some meta-model instances and some insight into practical applications.
Les informations temporelles jouent un rôle important dans une grande majorité de problèmes scientifiques. En géographie, l'interaction avec les aspects spatiaux et la référence à des calendriers sur de longues périodes est fréquente. Les approches théoriques ou expérimentales croisent nécessairement différents points de vue de plusieurs communautés scientifiques. Pour préciser et unifier les langages et les pratiques, l'utilisation systématique de modèles plus ou moins formels est une garantie d'efficacité (cohérence, correction, réutilisation, etc.). L'accès à des masses toujours plus importantes d'informations complexes et hétérogènes, la volonté de capitalisation des résultats nécessitent le peuplement et l'interrogation d'entrepôts de données et de bases de connaissance. L'informatique produit des modèles qui permettent de formuler et de résoudre un grand nombre de questions en la matière. Le présent article donne un état de l'art sur le sujet ainsi que des exemples de modèles assortis de références à des travaux applicatifs.
Fichier principal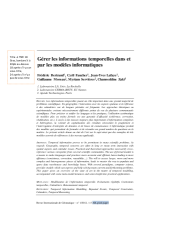 MAGIS_Final_Chap6_oct2014.pdf (594.25 Ko)
Télécharger le fichier
Origin : Files produced by the author(s)