The Gallic and Gallo-Roman rural estate of Prasville " Le Pilori " and "Les Grandes Canettes", from the 5th century BC to the IIth century AD.
Les domaines agricoles gaulois et gallo-romains de Prasville "Le Pilori" et "les Grandes Canettes", du Ve siècle av. J-C au IIe siècle ap. J-C.
The diagnosis conducted in 2009-2010 in Prasville (Eure-et-Loir, France) allowed to recognize several human settlements that have followed since the end of the first Iron Age until the Early Empire by moving in space but without hiatus chronological. The thirty hectares surveyed in two non-continuous batch plots are occupied by nine separate sets first consisting of five Gallic settlements agro-pastoral habitats characterized by the type of habitats and storage areas distributed approximately every 100 m with empty areas between them probably corresponding to surfaces under cultivation. The four sets that follow them are dated from the late La Tène and early Empire, materialized by several constructions in the Roman masonry and ancillary buildings. The ancient settlement are located between two highways, the axis Chartres Orléans-west (current RN 154) and a secondary axis seen during this diagnosis to the east and whose route had already been acknowledged during a procedure performed in Moutiers-en-Beauce.
Le diagnostic réalisé en 2009-2010 sur la commune de Prasville a permis de reconnaître plusieurs installations humaines qui se sont succédées depuis la fin du premier âge du Fer jusqu'à la fin du Haut-Empire en se déplaçant dans l'espace mais sans hiatus chronologique. La trentaine d'hectares sondés en deux lots de parcelles non continues sont occupés par neuf ensembles distincts consistant d'abord en cinq implantations gauloises de type agro-pastoral caractérisées par des habitats sur poteaux et des zones de stockage distribués tous les 100 m environ avec des zones vides entre elles correspondant sans doute aux surfaces mises en culture. Les quatre ensembles qui leur succèdent sont datés de La Tène finale et du Haut-Empire, matérialisés par plusieurs constructions maçonnées à la romaine et des constructions annexes. Les occupations antiques sont implantées entre deux axes routiers, l'axe Orléans-Chartres à l'ouest (actuelle RN 154) et un axe secondaire mis au jour à l'occasion de ce diagnostic à l'est et dont le tracé avait déjà été reconnu lors d'une intervention réalisée à Moutiers-en-Beauce
Fichier principal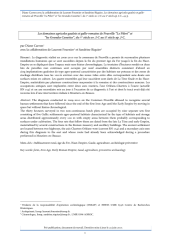 PrasvilleHAL.pdf (6.11 Mo)
Télécharger le fichier
Origin : Files produced by the author(s)