L'université compétitive ? L'économisation de l'enseignement supérieur et de la recherche en Pologne
This contribution deals with the « economization » of the Higher Education (HE) and Research in Poland after 1989. The transformations of the Polish HE have been shaped by post-communist legacies and the contingencies of establishing liberal economy regime. Another set of inputs originated from the conditionality of the EU accession process, which coincided with the launching of the Bologna Process. The former implied a vast privatisation of the HE system. The latter's tenet was to define the role of the sector as supporting a "knowledge based economy", agenda promoted by the Lisbon strategy and international institutions in the field. However, the relative weight of the European factor is still a matter of debate in the academic scholarship on the topic. While the growing competition between universities, research centres and researchers themselves can be observed in the recent HE reforms in Poland, the mechanisms and the actors behind this process have been under-investigated. The paper analyses the circulation of reform narratives that based on economic arguments and market rationale. It focuses on a wide range of experts who were involved in the debate on HE and the reform design: civil servants, politicians, educational experts, and representatives of the academic community in Poland, who have contributed to frame the analysed reforms.
L'« économisation » du système de l'enseignement supérieur et de la recherche en Pologne après 1989 s'inscrit dans le double contexte des transformations systémiques suivant la chute du communisme et celui des préparatifs à l'adhésion à l'UE. Le premier implique un vaste mouvement de privatisation du système de l'enseignement supérieur. Le deuxième est marqué par le lancement du processus de Bologne puis de la stratégie de Lisbonne, qui orientent le secteur vers l'objectif d'une « économie fondée sur le savoir ». Le poids de ce dernier facteur fait toutefois débat ; certains auteurs accordent aux logiques européennes une place secondaire, d'autres insistent sur le rôle structurant des instances communautaires dans l'imposition de la logique du marché au secteur public. Si la mise en concurrence des universités, des laboratoires et des chercheurs indique la direction prise par les récentes réformes de l'enseignement supérieur, encore faut-il pouvoir en cerner les mécanismes et les acteurs. En analysant la circulation des injonctions à la réforme – basées sur des arguments d'ordre économique – nous nous pencherons sur l'ensemble des acteurs – responsables politiques, hauts fonctionnaires, experts académiques et issus du secteur du conseil – qui se sont impliqués, dans les ministères, les instances représentant les milieux académiques ainsi que des think tanks, à construire les cadres des réformes en question.
Fichier principal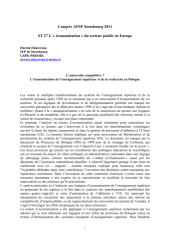 ST27_Dakowska.pdf (304.24 Ko)
Télécharger le fichier
Origin : Files produced by the author(s)