Estudo cientométrico dos Congressos Brasileiros de Agroecologia
A produção técnico-científica internacional em Agroecologia, cuja fundamentação está ancorada nas bases de dados bibliográficas internacionais, o Web of Science (WoS) e o Scopus. Quando começamos a estudar a produção internacional, encontramos menos de 150 textos de pesquisadores brasileiros em mais de 2.500 artigos em Agroecologia (OLLIVIER et al., 2011, ALENCAR; AVENTURIER, 2013), que representa um número pequeno em relação à dinâmica de produção de conhecimento em Agroecologia no Brasil. A análise de Alencar e Aventurier, em 2014, mostrou que existem mais de 8.000 textos sobre o assunto publicados em congressos, artigos de revistas, dissertações e teses que estão sendo coletados e armazenados para estudos dos projetos "Repositório de acesso livre para agroecologia e agricultura orgânica do Brasil" (FAPESP, projeto 2009/54940-9) e "Agroecologia na França e no Brasil: entre redes científicas, movimentos sociais e políticas públicas" (CAPES/COFECUB, projeto 716/2011). Embora a história da Agroecologia no Brasil tenha se manifestado com abundância de atividades, principalmente nos congressos em agroecologia, a sua visibilidade não corresponde à dinâmica da produção técnico-científica internacional (ALENCAR, AVENTURIER, 2013).
La production scientifique et technique en agroécologie est identifiée dans les bases de données internationales comme Web of Science ou Scopus. Dans le WOS on dénombre 2500 articles en agroécologie dont seulement 150 avec au moins au auteur affilié à une institution brésilienne, ce qui représente un nombre très faible par rapport à la dynamique de production des connaissances en agroécologie au Brésil estimée à plus de 8000 articles, actes de congrès etc… Ce travail présente une analyse des actes des Congrès Brésiliens de Agroécologie pour repérer l'impact des principales disciplines, l' évolution des thématiques de l'agroécologie, les lieux et organisations de production, les plantes étudiées et montre l'écart entre la production scientifique brésilienne à visibilité internationale et les documents à visibilité nationale.
Fichier principal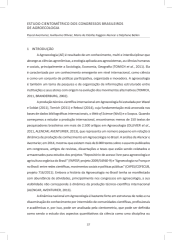 Aventurier et al LIVRO ALFIO 12.06_{05112D66-864D-472A-BCCA-3FEAC40E01B7}.pdf (4.78 Mo)
Télécharger le fichier
Origin : Explicit agreement for this submission