La dégustation du vin : Un acte expérientiel et identitaire entre théâtralisation et culturalisation
The cultural discourse surrounding wine tasting has both a pragmatic and a cognitive function, and it gives rise to several representations and argumentations. How is it possible to communicate various approaches to wine to new generations, university students and adults? How can they build their own reference tables and their own representations of "good wines"? These questions highlight the subjective nature of wine appreciation and representation, also recalling the strong link existing between the preservation and transfer of a specific imaginary surrounding food and the essential role played by cultural and theatrical processes.
Dans le discours de la dégustation académique du vin, la procédure officielle, déclinant les phases ordonnées visuelles, olfactives et gustatives, les « il faut… », « il ne faut pas… », « le bon arôme… », « la bonne tenue du verre… », renvoie souvent l'acquisition des techniques à la relativité de la transcription. L'exposé du savoir-déguster ressemble bien souvent à un compte-rendu sans analyse permettant une appropriation plutôt autobiographique que technique, sans reconstitution des sensations et sans problématique. L'exposé-dégustation s'associe quelquefois à une démonstration d'ordre social, mettant en exergue l'étiquette de compétences du dégustateur et de sociabilité du moment.
Fichier principal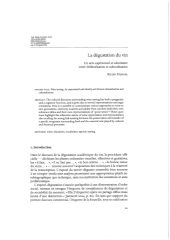 Degustation experience theatralisation STENGEL.pdf (4.81 Mo)
Télécharger le fichier
Origin : Explicit agreement for this submission