Rencontre improbable entre von Foerster et Snowden
Although ICT have created hope for a shared pluralistic world, democratic principles are far from being respected in the public digital environment, and require a detailed knowledge of the laws by which they are governed. Von Foerster's conjecture is one of the early theoretical results that could help to understand these laws. Although neglected since a long time, the advent of the overlying layer of recommendation and ranking mechanisms which is progressively occupying the Web has given empirical evidences of this conjecture, which predicts the consequences of increasing inter-individual influences on social dynamics and the susceptibility of these latter to manipulation. With both von Foerster's conjecture and the Snowden revelations in the background, we analyse the impact of ICT on human societies and their governance, in view of the fact that they have a massive impact on the way in which people influence each other in their tastes and actions.
Bien que les technologies de l'information et de la communication (TIC) portent l'espoir de l'avènement d'un monde pluraliste et partagé, les principes démocratiques sont loin d'être respectés dans l'environnement numérique publique, et leur défense nécessite une connaissance approfondie des lois qui les régissent. La conjecture de von Foerster est l'un des premiers résultats théoriques qui pourraient nous aider à comprendre ces lois. Négligée pendant plusieurs années, cette conjecture prédit les conséquences de l'augmentation des influences inter-individuelles sur les dynamiques sociales et la vulnérabilité de celles-ci à la manipulation. Nous montrons que la montée en puissance des algorithmes de recommandations et des mécanismes de classement qui ont progressivement recouvert le Web a donné récemment des éléments empiriques corroborant cette conjecture. A partir de ces résultats, et avec les révélations Snowden en toile de fond, nous analysons l'impact des TIC sur nos sociétés et leur gouvernance au vu des changements drastiques qu'elles induisent dans la manière dont les gens s'influencent mutuellement dans leurs goûts et leurs actions.
Fichier principal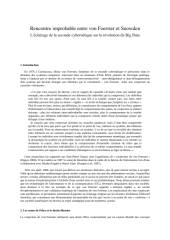 SnowdenMeetVonFoerster_HAL French.pdf (228.27 Ko)
Télécharger le fichier
Origin : Files produced by the author(s)