Le CV vidéo : le nouveau visage de la lutte contre les discriminations à l'embauche en France ?
Many tools have been developed for years and tested to fight against discrimination during the recruitment process. Recently appeared in France, video resume provides an opportunity for candidate to explain his career and his motivations. The aim of this article is precisely to test this new tool to reduce discrimination in hiring. Based on a survey of a 1,538 population from the association which we will named Divercités RH, we assess the scope of the video resume according to several items such as age, gender, origin, but also job type or time to return to work. We demonstrate the relative efficiency of the video resume to fight discrimination for specific population such as women and migrants. Thus, we underline the interest for candidates to be coached during the creation of this tool, but also the role of CVV in current approaches to build the " personal brand " of each candidate.
Depuis plusieurs années, de nombreux outils ont été mis en place et testés afin de lutter contre les discriminations lors du processus de recrutement. Apparu récemment en France, le CV Vidéo (CVV) donne la possibilité au candidat de pouvoir expliquer de vive voix son parcours et ses motivations. L'objectif de cet article est de tester le CVV comme outil de lutte contre les discriminations. A partir d'une enquête sur une population de 1538 personnes à l'initiative d'une association que nous nommerons Divercités RH, nous évaluons la portée du CVV en fonction de différents items comme l'âge, le sexe, l'origine, mais aussi le type d'emploi et la durée de retour vers l'emploi. Nous montrons ainsi que le CVV a une efficacité relative notamment pour certaines populations comme les femmes et les migrants pour lutter contre les discriminations. Nous soulignons ainsi l'intérêt de l'accompagnement des candidats pour élaborer un tel outil, mais aussi le rôle du CVV dans les démarches actuelles de construction de la marque de chaque candidat.
Fichier principal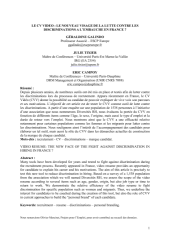 CV Video Galindo Tixier Campoy.pdf (524.92 Ko)
Télécharger le fichier
Origin : Files produced by the author(s)