Great expectations. What efficiency can be reasonably anticipated in global teams?
In the last twenty years, international firms have undergone various changes to become global firms. The inherent innovation potential of these global firms only materializes if the various entities cooperate efficiently and succeed in merging together their contributions. The object of this article is to examine the practical forms that this cooperation takes, so as to detect, by observing actors in global organisations, what barriers and difficulties they meet. This paper presents the empirical study of the dynamics of two R&D teams within a major French industrial group. By studying how the daily teamwork takes place, this article takes a critical look at the new models of organization and assesses how far they really favour innovation.
Depuis une vingtaine d'années, les firmes internationales se sont transformées pour devenir des firmes globales. Cependant, le potentiel d'innovation inhérent à ces firmes globales ne se concrétise que si les acteurs des différentes entités coopèrent efficacement et réussissent à intégrer leurs contributions. L'objet de cet article est donc d'examiner les formes concrètes de coopération des acteurs qui participent de ces entreprises globales, de déceler les obstacles qu'ils rencontrent et déterminer des modes de management les plus à même de concrétiser les gains potentiels de ces structures en réseau. Cet article s'appuie sur l'analyse empirique du fonctionnement de deux équipes projet dans un grand Groupe international d'origine française. L'analyse du fonctionnement quotidien de ces équipes projets ouvre la voie à une approche critique de ces nouveaux modèles d'organisations globales considérés comme les plus propices à l'innovation.
Fichier principal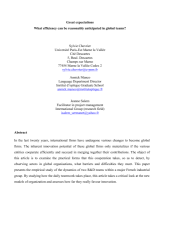 Final EURAM 2014 TRACK 15.pdf (365.08 Ko)
Télécharger le fichier
Origin : Files produced by the author(s)