Towards a "real" curriculum, or how to make understandable the pupils' activity?
Vers un curriculum « réel », ou comment se rendre intelligible l'activité de l'élève ?
L'étude s'intéresse à l'activité de l'élève en EPS pour procéder à une analyse fonctionnelle de son organisation motrice permettant de se la rendre intelligible. Elle répond au besoin de l'enseignant de pouvoir guider l'élève en situation d'apprendre. Le cadre théorique emprunté consiste à considérer la conduite motrice de l'élève comme une gestalt : inséparablement forme de corps et de mouvements corporels, et sens immanent inhérent à cette forme. Obtenus à partir d'études de cas en enseignement de la natation en classe de 6è de collège, les résultats mettent en évidence une organisation motrice de l'élève rendue intelligible par l'interprétation des formes en référence à des catégories d'analyse fonctionnelles de l'activité.
The study is interested in the pupils' activity in physical education so as to carry out a functional analysis of their motor organization to make it understandable. It meets the need for the teacher to be able to guide pupils in situation to learn. The theoretical framework consists of regarding pupils' motor organization as a gestalt: inseparably form of body and body movements, and immanent meanings inherent in this form. Obtained starting from case studies in teaching of swimming in class of 6th of college, results highlight a behavioural organization of the pupil made understandable by the interpretation of the forms in reference to functional analysis categories of the activity.
Fichier principal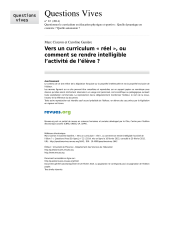 questionsvives-1642-n-22-Cizeron et Ganière.pdf (1.02 Mo)
Télécharger le fichier
Origin : Files produced by the author(s)