La « composition urbaine » : paradigme perdu d'une lecture hâtive du classique de K. Lynch, The Image of the City (1960)
Generally retains the classic work of Lynch, The Image of the City (1960) only the section (II-III) investigation and draft plans copied by geographers or planners, to make "maps mental ". It is a purpose of reducing the search Lynch. Its purpose is, in fact, from three US cities and scrutinizing the "imageability" in the relationship between the object and the subject, think physical structures of an urban form that make sense for the city (part IV). It is likely that Lynch was a forerunner almost too early and it was necessary that the urban design and urban project emerged from the academicism of the "composition urbaine" and reconnect with the inclusion of the inhabitants knowledge so that the meaning which Lynch load the urban form can regain resonate with architects and planners.
On retient généralement de l'ouvrage classique de Lynch, The image of the city (1960) seulement la partie relative (II-III) aux enquêtes et aux ébauches de plans copiées par les géographes, voire les urbanistes, pour en faire des « cartes mentales ». Il s'agit d'un usage réducteur de la recherche de Lynch. Sa finalité est bien, en effet, à partir de trois villes américaines et en scrutant l' « imageability » dans la relation entre l'objet et le sujet, de penser les structures matérielles d'une forme urbaine qui fassent sens pour le citadin (partie IV). Il est vraisemblable que Lynch a été un précurseur presque trop précoce et il fallait que l'urban design et le projet urbain se dégagent de l'académisme de la « composition urbaine » et renouent avec la prise en compte des savoirs habitants afin que le sens dont Lynch charge la forme urbaine puisse retrouver écho chez les architectes et urbanistes.
Fichier principal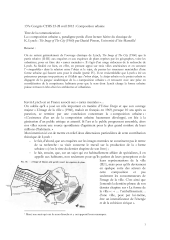 ComDP-CTHS.137-DesignUrbain-Lynch.pdf (2.79 Mo)
Télécharger le fichier
Origin : Files produced by the author(s)