Doctors, put a librarian in your (search) engine!
Médecins, mettez un bibliothécaire dans votre moteur (de recherche) !
Abstract – Background: Residents, physicians, practitioners, academics, whatever their position or status, all need scientific information. Yet in France at least, many physicians are not familiar with information research. They try Google and PubMed, but do not take the time to develop information retrieval skills. Analysis: International studies show that librarians who are actively involved in medical teams (morning department meetings, morbidity and mortality reviews) have a measurable and positive impact, saving time and money while cutting down on hospital stays. To do so, French hospital librarians have set up virtual reference services, training sessions and easy access to online articles. Conclusion: Collaboration should benefit librarians, physicians... and patients!
Résumé – Contexte et problématique : Tous les médecins, quels que soient leur niveau d'expérience ou leurs statuts, internes, médecins hospitaliers, universitaires ou non, ont besoin d'informations et de documentation. Or, dans beaucoup de milieux et notamment en France, peu maîtrisent la recherche documentaire. Passé le premier essai de recherche sur Google et PubMed, beaucoup se découragent en raison du manque de temps et des difficultés qu'ils rencontrent. Exégèse : Des études menées à l'étranger montrent que l'implication active des bibliothécaires au sein même des équipes médicales (réunions matinales de service, revues de morbi-mortalité,etc.) a un effet mesurable et positif : gain de temps, réduction de la durée d'hospitalisation, économies financières. Dans ce but, les bibliothécaires de santé en France ont mis en place des services de renseignement à distance, des formations, des moyens d'accéder facilement à la documentation. Conclusion : Les bibliothécaires et les médecins pourraient trouver de multiples bénéfices en apprenant à travailler ensemble, au bénéfice du patient.
Fichier principal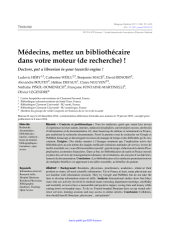 pmed140053.pdf (380.17 Ko)
Télécharger le fichier
Origin : Publisher files allowed on an open archive