Estimated publishing expenses for National Institute of Agronomic Research (Inra) in a "gold open access" model
Estimation des dépenses de publication de l'Inra dans un modèle théorique "Gold Open Access"
A simulation was conducted on what the National Institute of Agronomic Research (INRA) would have to fund if the choice had been made to publish all papers in Gold Open Access. Results are compared with the subscriptions costs. Consequences are discussed.
L'étude publiée ici est le résultat d'une simulation menée à l'Institut national de la recherche agronomique (Inra) et dont l'objectif principal était de déterminer quels auraient été les coûts de diffusion en libre accès des articles publiés par ses équipes de recherche sur l'année 2011 selon un modèle Gold Open Access (ou "voie dorée") dans lequel le financement est assuré par les auteurs et leurs établissements. Les auteurs de l'étude comparent ensuite ces résultats avec les coûts en abonnements supportés par l'Inra. À l'instar des estimations récentes de Wouter Gerritsma (Wageningen UR Library) au sujet de ce que coûterait le passage intégral au Gold Open Access aux Pays-Bas (wowter.net/2014/03/05/costsgoing-gold-netherlands), la publication de ces résultats a pour objectif d'alimenter la réflexion collective sur l'opportunité de s'orienter vers ce nouveau modèle de diffusion.
Fichier principal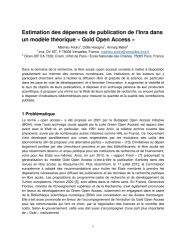 Gold Open Access.pdf (544.04 Ko)
Télécharger le fichier
Origin : Files produced by the author(s)