Introduction pionnière du E- learning à l'Université et son rôle dans l'élaboration de nouvelles compétences technologiques : Le cas de l'EBAD
EBAD, School Librarians and Archivists Documentalistes University Cheikh Anta Diop of Dakar learned very quickly anticipate the opportunity offered by ICT in Africa by offering as early as the 2000s degrees in distance education (FADIS ). Thanks to a successful domestication of ICT in different levels of training in Face, graduates are adequately equipped in terms of technological skills, if necessary, continue their education online. Beyond these skills, other skills are developed in personally as their distance learning. In this article we question the real impact of ICT in updating the skills of information professionals from the distance learning EBAD. We assume the hypothesis that learners of distance education EBAD, because of their proximity to their virtual environment, develop strategies more easily adopt ICTs for better performance in their profession. We will try to provide some answers from a comparative analysis of the degree profiles from the two types of training.
L'EBAD, l'École de Bibliothécaires Archivistes et Documentalistes de l'Université Cheikh Anta Diop de Dakar a su très vite anticiper l'opportunité offerte par les TICE en Afrique en proposant, dès les années 2000 ses diplômes en formation à distance (FADIS). Grace à une domestication réussie des TIC dans les différents niveaux de formation en Présentiel, les diplômés sont assez outillés en termes de compétences technologiques pour, au besoin, poursuivre leur formation en ligne. Au-delà de ces compétences requises, d'autres compétences sont personnellement élaborées au fur et à mesure de leur apprentissage à distance. Dans cet article nous nous interrogeons sur l'impact réel des TIC dans la mise à jour des compétences des professionnels de l'information issus de la formation à distance de l'EBAD. Nous postulons l'hypothèse selon laquelle les apprenants de la formation à distance de l'EBAD, du fait de leur proximité avec leur l'environnement virtuel, développent plus aisément des stratégies d'appropriation des TIC pour une meilleure performance dans leur profession. Nous essayerons d'apporter des éléments de réponses à partir d'une analyse comparative des profils de diplômes issus des deux modes de formation.
Fichier principal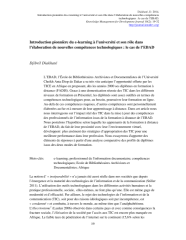 E-learning_comp_Km4DevJ_2014 (1).pdf (167.46 Ko)
Télécharger le fichier
Origin : Files produced by the author(s)