Des techniques pour analyser le patrimoine archéologique monumental : le cas du temple d'Opet à Karnak
The techniques applied to the architectural studies are constantly developed and enhanced. According to the context, the archaeologist can choose from among technical tools based on photogrammetry, lasergrammetry or even technical drawing. Nowadays, the complete survey of a building is easier and faster than ever. Nevertheless, the possibility to capture reality "as-built" leads to the production of more "objective" documents than before. Indeed, architectural survey can be traditionally defined as a method to identify and gather information about historic architectural resources. Usually, the drawing consists to select information which must be recorded. How are applied the different techniques in the case of architectural studies? What are their interactions? Some answers can be finding in a recent work: the study of the antique Opet temple at Karnak. The analysis of the monument has requested a complete and accurate survey. Various techniques and tools have been employed: 3d scanner, digital photographic rectification, drawings... Throw this experience it's possible to give a critical point of view of their application in the field of archaeology.
Les techniques appliquées au relevé dans le domaine des études architecturales, ne cessent de se perfectionner. L'archéologue du bâti dispose de nos jours des moyens variés que sont la photogrammétrie, la lasergrammétrie, et tout autant le dessin traditionnel. La capacité à produire plus rapidement une documentation extrêmement précise, implique néanmoins quelques changements en termes de méthodologie. Les nouvelles techniques de relevé tendent à produire des images plus fidèles au sujet -que l'on pourra penser plus "objectives"- mais pourraient s'éloigner de leur vocation analytique initiale : si le dessin manuel organisait les données tout en les enregistrant, l'automatisation partielle des technologies ne permet pas d'opérer cette sélection première de l'information. Il est par conséquent intéressant de se questionner sur leur pertinence, en fonction des contextes et des programmes. L'étude architecturale menée sur le temple ptolémaïque d'Opet à Karnak en Haute-Égypte a permis d'apporter quelques réflexions sur le sujet. Le relevé complet du monument a mis en œuvre différentes techniques telles que le scannage 3d ou le redressement de photographies. Leur utilisation sur ce chantier archéologique contribue à dresser une réflexion critique sur leur utilisation et leur efficacité.
Fichier principal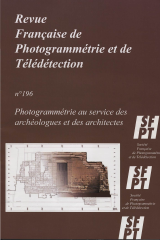 LarozeSFPT196_2011.pdf (857.3 Ko)
Télécharger le fichier
Origin : Explicit agreement for this submission