OUBLIEUSE MÉMOIRE, LE PROCESSUS DE RÉMANENCE DANS LA PRODUCTION PICTURALE DE MANET
Manet's pictorial production is both a necessary step for the discourse about what is commonly called "modernity" -as well as the discourse coming from "modernity"-, and a blind spot for critical analysis: his work seems to be left out of, or buried under, contemporary commentaries that appear to miss the point of what they address. Baudelaire, Huysmans, Zola at the end of his life, or critics of that time that are now forgotten, all seem not to actually grasp the essential features of Manet's work. This research aims at exploring the paradoxes inherent to Manet's pictorial production, in order to underline that the instances of re-using - or citation - of previous paintings are to be seen as a singular form of quoting the real, rather than a way of repeating pictorial codes, themes or patterns, which would be a mere autotelic reference to the history of painting. The invention of the model -Victorine Meurant or Berthe Morisot- then becomes the invention of a new mode of reception, which involves the viewer in a singular process characterized by a particular temporality, that of a pictorial persistence typical of a historical moment.
La production picturale de Manet est à la fois passage obligé du discours sur - ou de - ce que l'on a coutume d'appeler " modernité " et point aveugle de l'activité critique. En effet, sa production paraît à la fois recouverte et oubliée par des commentaires - contemporains des toiles - qui semblent manquer ce dont ils traitent, qu'il s'agisse de Baudelaire, Huysmans ou du dernier Zola, ou de critiques d'époque, aujourd'hui oubliés. Ce travail explore les paradoxes à l'œuvre dans la production picturale de Manet pour montrer que les phénomènes de reprise ou de réemploi y relèvent d'une singulière citation du réel plutôt que de la reprise de codes picturaux, de thèmes ou de motifs, dans un renvoi autotélique à l'histoire de la peinture. L'invention du modèle - Victorine Meurant ou Berthe Morisot - se fait alors invention d'un autre mode de réception qui engage le sujet récepteur de la toile, dans un parcours marqué par un singulier régime temporel : celui d'une rémanence picturale, caractéristique d'un moment historique.
Fichier principal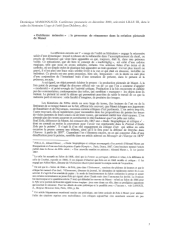 Oublieuse_mA_moire_MANET_-_Massonnaud.pdf (7.05 Mo)
Télécharger le fichier
Origin : Files produced by the author(s)