PERCEPTIONS DU CAPITAL INTELLECTUEL PAR LES MANAGERS ETUDE EMPIRIQUE DANS LE CONTEXTE TUNISIEN
The purpose of this exploratory research study is to examine the extent of recognition of the concept of intellectual capital in the Tunisian context and to identify the perceptions of managers concerning the accounting treatment and disclosure of this hidden concept. A survey questionnaire was conducted among 51 managers. The results of this survey argue that the majority of respondents perceive the elements of intellectual capital as important value drivers for their business. This study shows that managers are aware of the shortcoming of the present accounting system and they approve previous studies that propose voluntary disclosure of information relating to intellectual capital as a solution to compensate for the loss of relevance of traditional accounting information. This study presents a significant interest in the accounting literature and provides whether it would be appropriate for the Tunisian accounting standard setting body to ask companies to disclose more intellectual capital information.
L'objectif de ce travail de recherche exploratoire est d'examiner l'étendue de la reconnaissance du concept du capital intellectuel dans le contexte tunisien et de dégager les perceptions des managers envers la comptabilisation et la divulgation de ce concept caché. Une enquête par questionnaire a été menée auprès de 51 managers. Les résultats de cette enquête affirment que la majorité des répondants perçoivent les éléments du capital intellectuel comme étant des facteurs clés de succès pour la réussite des entreprises. Cette étude montre aussi que les managers sont conscients des défaillances du système comptable actuel et ils approuvent les études antérieures qui proposent la divulgation d'informations volontaires relatives au capital intellectuel comme étant une solution pour pallier la perte de pertinence de l'information comptable traditionnelle. Cette étude présente un intérêt non négligeable à la littérature comptable et permet de savoir s'il serait pertinent, pour le normalisateur comptable tunisien, d'appeler les entreprises à divulguer plus d'informations relatives au capital intellectuel.
Fichier principal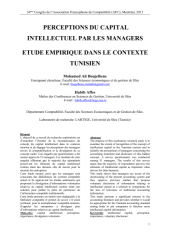 soumission-01-05-2013_20-29-30.pdf (347.1 Ko)
Télécharger le fichier
Origin : Files produced by the author(s)