Les caricatures franco-britanniques au XIXe siècle à la lumière de leurs techniques de reproduction
The caricature of political leaders is a privileged object of study of the relationship between the material, social and political conditions of production of images. The advances in the reproductive technologies during the nineteenth century and the political and social transformations in Britain and France can explain the stylistic choices of satirical prints, which are dependent on the material conditions of their production but also on the distribution of the official representations of the leaders. This article analyzes the different factors that help explain the shift of the production of caricatures from etching to wood engraving, lithography and photomechanical reproduction, and the consequences of these choices of reproduction and of distribution on the very forms of this art.
La caricature des dirigeants politiques est un objet d'étude privilégié des relations entre les conditions matérielles, sociales et politiques de production des images. Les progrès des techniques de reproduction au cours du XIXe siècle et les transformations politiques et sociales en Angleterre et en France permettent d'expliquer les choix stylistiques des estampes satiriques, qui sont tributaires des conditions matérielles de leur production, mais également de la diffusion des représentations officielles des dirigeants. Cet article analyse les différents facteurs qui permettent d'expliquer le passage de la production de caricatures de l'eau-forte à la gravure sur bois, à la lithographie et à la reproduction photomécanique, et les conséquences de ces choix de reproduction et de diffusion sur les formes mêmes de cet art.
Fichier principal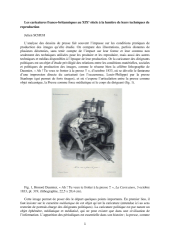 SCHUH_Les_caricatures_franco-britanniques_au_XIXe_siecle.pdf (1.17 Mo)
Télécharger le fichier
Origin : Files produced by the author(s)