Passer par la fenêtre périurbaine quand la porte urbaine est fermée : des régimes (péri)urbains pour le développement logistique des métropoles européennes ?
The considerable logistics development of metropolises catalyzes new economic functions in the suburban spaces. However, this economic dynamic depends on several local public policies. In order to analyze these policies, the urban regime approach appears to us particularly heuristic. To do that, we will support our communication with four study cases: Mitry-Compans, Val Bréon, Sénart in the Paris Region and Venlo in the Netherlands. They show different types of coalition whose main variables are the form of the economic activity strictly speaking, such as its local embedding, and the regime of the production of logistics spaces. These two elements structure the relationship between the economic sphere and the public policies. Then, the shift of the analysis towards suburban spaces and peripheral economic activities shed a new light on the concept itself and on the issue on its transfer from American cities to European cities. Indeed, within the metropolises, the fringes where the institutional density is lower (Lorrain, 2011) seem to entail to 'governance discontinuities' (Borraz, Le Galès, 2010) leading to deeper participations of private firms within public policies. When the door of the European city-centers is locked, would urban regimes enter through the window of the suburbs and the peripheral economic activities?
L'important développement logistique des métropoles catalyse une nouvelle fonction économique pour les espaces périurbains. Or cette dynamique économique repose sur un certain nombre d'actions publiques locales. Afin analyser ces dernières, l'approche par les régimes urbains nous semble en ce sens particulièrement heuristique. Dans ce but, nous nous appuyons sur quatre études de cas : Mitry-Compans, le Val Bréon, Sénart en Île-de-France ainsi que Venlo aux Pays-Bas. Elles donnent à voir différents types de coalition dont les principales variables sont la forme de l'activité économique proprement dite, son ancrage local notamment, et le régime de production des espaces logistiques, ces éléments structurant les demandes de la sphère économique vis-à-vis de l'action publique. En retour, ce décentrement de l'analyse vers le périurbain et vers des activités économiques périphériques nous semble fertile au regard du concept lui-même et de la question de son transfert des villes américaines aux villes européennes. Il apparaît ainsi qu'au sein de la métropole, 'les franges où la densité institutionnelle (…) est plus molle' (Lorrain, 2011) instaurent des 'governance discontinuities' (Borraz, Le Galès, 2010) offrant un poids plus grand aux acteurs privés dans l'action publique. Quand la porte des villes-centres européennes est fermée, les régimes urbains n'entreraient-ils pas par la fenêtre du périurbain et des activités économiques périphériques ?
Fichier principal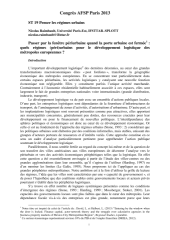 doc00017511.pdf (241.73 Ko)
Télécharger le fichier
Origin : Files produced by the author(s)