Behavioural, growth and immune consequences of early weaning in one-week-old Large-White piglets
Genetic improvement in sows' prolificity is limited by their milk capacities, which do not allow all piglets to survive or grow normally. This experiment compared the behaviour, growth and immune responses of piglets that were weaned early at 6 days of age (EW) vs. control Large White piglets' (C) suckled by their mothers. Behaviour of 9 litters of 5 to 8 piglets in each group were observed from d5 to d20. All piglets were weighed from birth to d74. Three piglets from each group were slaughtered on d36 for immunological analysis. Until they began to eat dry food, EW piglets walked and vocalised more than C piglets. After that time, when resting, they were less often lying down and more frequently in contact with littermates under the heater. Aggressive behaviour and belly- nosing were more frequent. They displayed a more marked growth check after weaning than did C piglets until 28 days of age. In EW piglets, at 36 days of age, there was a higher density of T- and B-lymphocytes in the gut epithelium and lamina propria, respectively, in relation to the size of lymphoid follicles of Peyer's patches. The results indicate great behavioural adaptation capacities of very early-weaned piglets, together with earlier maturation of their gut immune system.
Conséquences sur le comportement, la croissance et le système immunitaire, d'un sevrage à l'âge d'une semaine, chez des porcelets Large-White. Les capacités laitières limitées des truies hyperprolifiques ne permettent pas à tous les porcelets de survivre ou de croître normalement. L'objectif de cette étude est de mesurer les paramètres comportementaux, zootechniques et immunologiques, exprimés par des porcelets Large-White sevrés ultra-précocement (EW) à 6 jours et des porcelets témoins (C) allaités par leur mère. Les comportements de 9 portées de 5 à 8 porcelets EW et C ont été observés entre J5 et J20. Des pesées ont été effectuées de la naissance à J74. Trois porcelets de chaque groupe ont été sacrifiés à J36 pour des mesures immunitaires. Les porcelets EW se déplacent et vocalisent plus que les C jusqu'à ce qu'ils commencent à s'alimenter. Ensuite, ils sont moins souvent couchés sur le flanc et plus fréquemment en contact corporel, sous la source de chaleur. Ils sont plus agressifs et se massent et se tètent plus. Ils laissent apparaître un retard de croissance comparativement aux porcelets C, jusqu'à l'âge de 28 jours. Enfin, à l'âge de 36 jours, chez les porcelets EW, la densité en lymphocytes T et B est plus élevée que chez les C, dans l'épithélium et la lamina propria ; résultats en relation avec un plus grand développement des follicules des plaques de Peyer, site où s'initie la réponse immunitaire intestinale. Ces résultats montrent que des porcelets sevrés très précocement sont capables d'une adaptation comportementale rapide et que la maturation de leur système immunitaire digestif est également plus précoce.
Fichier principal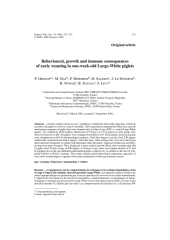 hal-00900375.pdf (712.26 Ko)
Télécharger le fichier
Origin : Explicit agreement for this submission