Adaptation ou réaction locale vis-à-vis de l'administration espagnole au Maroc dans le premier tiers du XXe siècle
From 1886 till 1976, the administration of certain North African territories by Spain, - which culture, education and language also penetrated through its five North African fortified garrisons in its Protectorate of Morocco-, contributed to the traffic of ideas among the autochthons. Rural or urban, the controlled social categories rebelled rather than they adapted willy-nilly of this shape of subjection which confiscated them the diplomatic, commercial and strategic management. Hierarchically stratified from sultanate to slavery - remaining in spite of its abolition in 1922-, they interacted in a constant balance of power with the Hispanic rulers and servicemen in charge of the maintenance of law and order for the western imperialism. This study thus suggests glimpsing how some figures of the autochthonous elite, having appropriated the technical, military, legal and media knowledge transmitted by the Iberian example and teaching, did not content themselves with promotions or with the access to the health services of the protective power, but demanded a political transformation. So, trying to surmount the tribal rivalries between clans, the emir Abd El-Krim ben Muhammad el Khattabi's (Ajdir-Aif-Yusef on 1882 - Cairo 7-II-1963) Riffian resistance movement did not only fight against the Peninsular army summoned to protect the colonial companies, but for a national unity including the French protectorate.
Pendant plus d'un siècle, les intérêts contradictoires des dirigeants locaux provoquèrent une alternance d'adaptation et réaction vis-à-vis de l'administration espagnole présente au Maroc de 1859 à 1976. En raison de la succession des événements subséquents à la Guerre d'Afrique gagnée au nom de la reine Isabelle II de Bourbon, les élites optèrent inconfortablement pour les avantages offerts par les Péninsulaires après les troubles aux accents xénophobes fomentés en novembre 1902 par l'usurpateur Rogui Bou Hmara et suite à l'accord franco-anglais du 6 octobre 1903 qui confia la côte marocaine aux Espagnols. L'escalade de leurs réactions stratégiques dans un contexte de rivalités impérialistes européennes déboucha sur la pacification du Rif, sous la dictature du général Miguel Primo de Rivera. Il en découla une coopération rifaine essentielle en octobre 1934 dans la répression de la révolution des Asturies, puis dans le putsch militaire antirépublicain de la nuit du 17 juillet 1936 jusqu'à la fin de la dictature du généralissime Franco Bahamonde qui trépassa le 20 novembre 1975. Ce soutien à l'armée factieuse de la métropole s'acheva avec la transition démocratique espagnole qui permit la décolonisation du Sahara occidental le 26 février 1976.
Fichier principal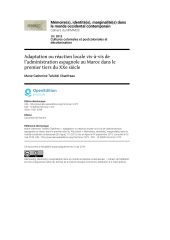 mimmoc-1372.pdf (306.3 Ko)
Télécharger le fichier
Origin : Publisher files allowed on an open archive