Bâtir Saint-Jean-du-Maroni.
This study provides a historical analysis of the architecture of the prison of Saint-Jean-du-Maroni. This prison hosted the relégués in French Guiana, under the law of 27 May 1885 on the relegation of recidivists. It identifies and analyzes all the buildings built by the prison administration between 1888 and 1943. It is divided into three parts: - A presentation of the main stages of the construction of the penitentiary. - An inventory and an analysis of all prison buildings. - A historical analysis of the society of the relégués and the penal staff in Saint-Jean-du-Maroni.
Cette étude établit une analyse historique de l'architecture du pénitencier de Saint-Jean-du-Maroni. Ce pénitencier accueillait les relégués en Guyane française, en application de la loi du 27 mai 1885 sur la relégation des récidivistes. Ce travail recense et analyse tous les bâtiments construits par l'administration pénitentiaire entre 1888 et 1943. Il se décompose en trois parties : - Une présentation des principales étapes de la construction du pénitencier. - Un recensement et une analyse de tous les bâtiments pénitentiaires. - Une analyse historique de la société des relégués et de leur personnel d'encadrement à Saint-Jean-du-Maroni.
Fichier principal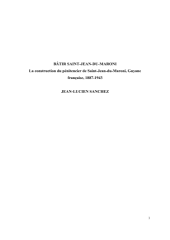 BA_tirSaint-Jean-du-Maroni.pdf (97.42 Mo)
Télécharger le fichier
Origin : Files produced by the author(s)