"L'ambiance est bonne" ou l'évanescent rapport aux paysages sonores au Caire. Invitation à une écoute participante et proposition d'une grille d'analyse
This contribution offers to carry on a work begun elsewhere (Battesti, 2009): to focus on sound ambiance of a place, this intangible matter. This soundscape is not only a result of activities within a place (passive definition), but can also be a voluntary collective construction (active definition). In Cairo and its 'sound coating', each neighborhood possesses its own atmosphere, its specific identity given by the citizens, within the urban fabric of the metropolis. The ambiance is not a trivial detail, a simple sound background: this is the first quality put forward by Cairo citizens to explain their strolling here and not there in the city, to justify their appreciation of the urban places. The ambiance or atmosphere, with its sound component, becomes an objectified part of the "beauty" of an urban space. EIther these spaces are structured by the vegetal (public gardens) or mineral (neighborhoods), what matters for Cairene users of public spaces is the "soul" of the place, which first manifestation is the co-presence of other human, sonic transmitters. Most of the Cairo popular outings are picnic on benches, on green roundabouts... urban ambiances catch on within, and without escape and abstract of, a saturated environment of people, smells, urban pollution... and sounds. Strollers come to enjoy the ambiance, take part in the show that the city generates by looking at itself, by listening to itself. To each territory of the city corresponds a peculiar sound ambiance, each neighborhood has its own signature. This signature can be analyzed, decomposed (inventory of different sounds), but it is the comprehensive listening that provides meaning. I have shown elsewhere, the relevance of the subject "sound ambiance" in anthropology: sound ambiances are not a coincidence, they are social productions. Now I want to push the hypothesis of a "sound social structure": sound ambiances (produced and received) would be organized on the strong social structure of Egyptian society. The principle that seems to govern the best the popular policy regarding the sound is the saturation, like the popular celebrations and weddings or religious festivals (mulîd) where electroamplified musics (with electroacoustic effects that are usually avoided elsewhere than in Egypt) voluntarily fill the air, rule supreme. The exceptional moments of celebration, of course, meet the most everyday moments where the sound saturation is lower, but the sound signature equally obvious to everyone. How to define "soundscapes" and how to describe these soundscapes, how to analyze them, what can we say about their production and standards that govern them? and if the sound ambiances can be described as décor of the very moment, what games players do they allow?
Cette contribution propose de poursuivre un travail entamé ailleurs (Battesti, 2009), de s'intéresser à cette matière intangible qu'est l'ambiance sonore d'un lieu. Ce paysage sonore non seulement est une résultante des activités menées en son sein (définition passive), mais peut être également une construction collective volontaire (définition active). Au sein du Caire et de sa "gangue sonore", chaque quartier possède dans le tissu urbain de la mégapole une identité spécifique attribuée par les citadins, une ambiance. Loin de ne tenir que de l'anecdote, d'un simple arrière-plan sonore, l'ambiance est la qualité première invoquée par les citadins pour expliquer leur déambulation ici et non pas là dans la ville, justifier leur appréciation des espaces. L'ambiance, dont sa composante sonore, devient une part objectivée de la "beauté" d'un espace urbain. Que ces espaces soient structurés par le végétal (jardins publics) ou le minéral (quartiers), ce qui importe pour les usagers cairotes d'espaces publics est "l'âme" des lieux, qui ne se manifeste que par la coprésence d'autres humains, émetteurs sonores. Dans Le Caire des sorties populaires, on pique-nique sur les bancs, sur des ronds-points... les ambiances urbaines prennent, se créent au sein même et sans se soustraire et s'abstraire d'un environnement saturé de gens, d'odeurs, de pollutions urbaines... et de sons. Les promeneurs viennent apprécier l'ambiance, prendre part au spectacle que la ville engendre en se regardant, en s'écoutant elle-même. Les territoires de la ville correspondent à des paysages sonores, ils ont leur propre signature. Cette signature est analysable, décomposable (inventaire des différents bruits), mais c'est l'écoute d'ensemble qui offre sens. J'ai pu montré ailleurs la pertinence de l'objet "ambiance sonore" en anthropologie : les ambiances sonores ne sont pas le fait du hasard, elles sont des productions sociales. Je souhaite maintenant pousser l'hypothèse d'une "structure sociale sonore": les ambiances sonores (faites et reçues) s'organiseraient sur la forte structuration sociale de la société égyptienne. Le principe qui semble le mieux régir la politique populaire de la sonorité est celui de la saturation à l'instar des fêtes de mariages populaires et des mouleds où les musiques électroamplifiées (aux effets électroacoustiques évités ailleurs qu'en Égypte) emplissent volontairement les airs, sans partage. Aux moments exceptionnels de fêtes, bien entendu, répondent des moments plus quotidiens, où la saturation sonore est moindre, mais la signature toute aussi évidente à chacun. Comment qualifier ces paysages sonores, comment les analyser, que peut-on dire de leur production et des normes qui les régissent? et, si les ambiances sonores peuvent être décrits comme des décors de l'instant, quels jeux d'acteurs permettent-ils alors?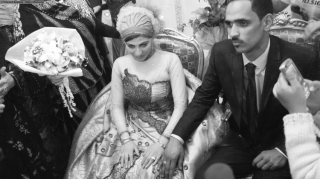 20110331212115-vbat-n_b.jpg (237.19 Ko)
Télécharger le fichier
Fichier principal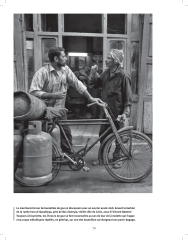 Ambiance_est_bonne-Rapport_au_paysage_sonore_au_Caire-V._Battesti-2013-hal-00842075.pdf (346.19 Ko)
Télécharger le fichier
Origin : Explicit agreement for this submission