Cost Analysis of the Digitization, Web integration and Distribution across the Internet of Rare and Old Printed materials
The present paper seeks to precisely establish the costs functions characterized through the operations of digitization and distribution via Internet of rare 16th century books. Firstly a state of the art cost analysis is presented based on the documents which have been retained by the authors to make the point on the methods used in digitization cost analysis. Secondly an original activity-based cost analysis method is suggested based borrowed from Michael Porter's value chain.
Ce travail cherche à établir aussi exactement que possible les relations de coûts caractéristiques d'une numérisation d'ouvrages du XVIème siècle, à la disposition du plus grand nombre d'utilisateurs, sur Internet. Dans un premier temps, on présente les divers projets et travaux qui ont été retenus pour faire le point sur les méthodes employées en matière d'analyse des coûts induits lors de la numérisation d'ouvrages anciens. Dans un deuxième temps, on propose une méthode originale d'analyse des coûts à base d'activités adaptée de la chaine de valeur de Michael Porter.
Fichier principal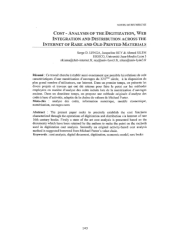 Lenga_S_Rey_J_Silem_A_2001_Cost-analysis_of_the_digitization_Web_integration_of_old_and_rare_printed_materials_HAL.pdf (1.98 Mo)
Télécharger le fichier
Origin : Files produced by the author(s)