Effets de la confrontation entre enseignants de sciences débutants sur leurs conceptualisations et leurs pratiques en ce qui concerne les démarches d'investigation.
The study addresses teacher collaboration and its impacts; it concerns 6 new science teachers. It refers to the activity theory framework, and aims to elicit the actors' activity system and their common aspects. The impacts of a teacher education program based on a cognitive conflict created about inquiry based science education are discussed. The data consist of videotaped lessons and interviews with teachers about these video. Findings show that: 1- teacher knowledge is organized in activity systems along the main dimensions of the activity; contents that were taught through the teacher education program are integrated within these new teachers' activity system. Teacher collaboration contributes to the elaboration of shared knowledge.
L'étude concerne le travail collectif enseignant et ses effets ; elle porte sur 6 enseignants de sciences débutants. Le cadre de référence est la théorie de l'activité. On vise donc à mettre en évidence le système d'activité des professionnels et leur zone commune. Les effets d'un dispositif de formation fondé sur l'instauration d'un conflit cognitif à propos des démarches d'investigation sont recherchés. L'étude est conduite par vidéo et autoconfrontation. Les résultats montrent : 1- que les savoirs professionnels sont organisés en modèle opératifs selon les dimensions critiques de l'activité ; 2- que les connaissances explicitement transmises lors du dispositif de formation se retrouvent dans les systèmes d'activité des enseignants débutants. Le travail collectif enseignant contribue ainsi à créer une représentation opérative partagée parmi les professionnels.
Fichier principal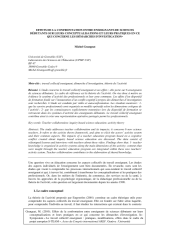 2010_AREF_Grangeat.pdf (257.82 Ko)
Télécharger le fichier
Origin : Files produced by the author(s)