État de l'art du jeu vidéo : histoire et usages
According to the french government, the video game industry has now reached a turnover of 3 billion euros (or 10% of the turnover of the french cultural industry), making it the second European country. This market could reach 3.8 billion by 2014, that is a 27% increase in 3 years. Video game was since always an entertaining technology, not requiring the player a significant interaction or intellectual investment result. Today, video games require more and more players to interact with it in various forms of intellectual or physical (tactil mysteries games, motion capture via the game console). Moreover, virtual communities gather every day on discussions forums, or inside the video game to share and to maintain the product via any suggestions, problems and ideas, like Open Source solutions available on the Internet. Changes in the field of videogame creation that we track in communicating a historical perspective in us focusing in particular to changing uses, leading to changes in corporate behavior and the general public. Therefore, considering video games as a tool, we will show what changes of mentalities and uses throughout history of the video game.
D'après le gouvernement français, le secteur du jeu vidéo atteint aujourd'hui un chiffre d'affaire de 3 milliards d'euros (soit 10% du chiffre d'affaire de l'industrie culturelle française), ce qui en fait le 2ème pays européen. Ce marché pourrait atteindre 3,8 milliards à l'horizon 2014, soit une hausse d'environ 27% en 3 ans. Le jeu vidéo était depuis toujours une technologie divertissante, ne demandant pas au joueur une interaction importante ou un investissement intellectuel conséquent. Aujourd'hui, les jeux vidéo demandent de plus en plus au joueur d'interagir avec celui-ci sous diverses formes intellectuelles ou physiques (jeux d'énigmes tactiles, capture de mouvement via la console de jeu). D'autre part, des communautés virtuelles se rassemblent tous les jours sur des forums de discussions ou à l'intérieur même du jeu vidéo afin d'échanger et de faire vivre le produit via des suggestions, des problèmes et idées, à l'instar des solutions OpenSource disponibles sur Internet. Les évolutions dans le secteur de la création videoludique que nous retraçons dans la communication d'un point de vue historique en nous attachant notamment à l'évolution des usages, entraîne des modifications des comportements des entreprises et du grand public. C'est pourquoi, en considérant le jeu vidéo comme un outil, nous allons montrer quelles sont les évolutions des mentalités et des usages au cours de l'histoire du jeu vidéo.
Fichier principal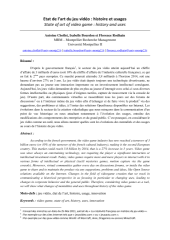 AIM_2012_-_Chollet_Bourdon_et_Rodhain.pdf (646.98 Ko)
Télécharger le fichier
Origin : Files produced by the author(s)