Evaluer les politiques d'éducation prioritaire en Europe: un défi méthodologique
Evaluating educational policies is not an easy task because it faces methodological hurdles, but also because it threatens (or seems to threaten) certain projects that are essentially built on an ideological basis even if their supporters would often argue it is not the case. However, evaluating these policies is essential, even more so because they target underprivileged audiences. This paper builds upon a European research project (EuroPEP) conducted in height countries to highlight this necessity and to illustrate both encountered problems and possible solutions. It indicates the necessity of a global methodological reflection and questions the way "good practice", often invoked in the field of educational policies, is defined.
L'évaluation des politiques éducatives n'est pas une entreprise aisée, à la fois parce qu'elle se heurte à des difficultés méthodologiques importantes, mais aussi parce qu'elle menace ou semble menacer certains projets construits essentiellement sur une base idéologique, alors même que leurs promoteurs s'en défendent le plus souvent. Il est pourtant essentiel de pouvoir évaluer ces démarches politiques, d'autant plus qu'elles concernent des publics défavorisés. Cet article, alimenté par une recherche menée au niveau européen dans huit pays (EuroPEP), met en évidence cette nécessité et illustre à la fois les problèmes rencontrés et les pistes qui peuvent être mises en œuvre. Il indique la nécessité d'une réflexion méthodologique globale et interroge, notamment, la manière dont sont définies " les bonnes pratiques ", souvent invoquées dans le domaine des politiques éducatives.
Fichier principal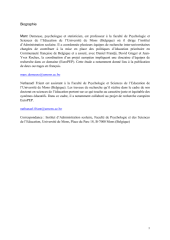 Demeuse_friant_rsse_modif_VF.pdf (289.36 Ko)
Télécharger le fichier
Origin : Files produced by the author(s)