Chronique radiocarbone de la néolithisation en Méditerranée nord-occidentale
The aim of this paper is to reassess the Neolithisation in North-western Mediterranean in relation to radiocarbon data. For this purpose, we have collected 471 datings, distributed among the seventh and fifth millennium before Christ. We first sum up the methodology we applied for our dating selection and the graphical representation mode we have chosen. The selected geographical area have allowed us to tackle, on the one hand general questions regarding the first farmers spread, and, on the other hand, on a more local scale of analysis, the chronological articulation between the cultural groups participating in the early Neolithic development. For instance, we investigate the problem of the first Neolithic spread and the possible contacts with the indigenous populations. About this last point, the chronological picture favours the assumption of various ways of expansion of production economy, although the mechanism in which this variety of cases has its origins are still poorly defined. Finally, the study of radiocarbon data, in a more restricted scale, has allowed us not only to validate the pre-established pattern but also, to suggest new hypothesis as for the chronology of the early Neolithic in North-western Mediterranean.
Cet article propose une discussion de la néolithisation de la Méditerranée nord occidentale à partir des données du radiocarbone. Pour cela, nous avons réuni un corpus de 471 datations s'organisant entre les septième et cinquième millénaires avant notre ère. Un rappel méthodologique expose en premier lieu les fondements du tri des datations imposé par cette démarche classificatoire ainsi que le mode de représentation graphique utilisé. Le cadre géographique choisi permet ensuite d'aborder d'une part, des questions d'ordre général sur les modalités d'implantation des premières sociétés paysannes et d'autre part, à une échelle d'analyse plus régionale, le problème de l'articulation des faciès culturels prenant part au développement du Néolithique ancien. On examine par exemple la question de la progression du premier Néolithique et des éventuels cas de contact avec les populations autochtones. Sur ce point, l'image chronologique obtenue plaide en faveur d'une différenciation dans les modalités d'expansion de l'économie de production, bien que les mécanismes responsables de cette variabilité soient encore mal définis. Enfin, l'étude des données du radiocarbone à une échelle géographique plus restreinte nous a permis de valider les découpages généralement admis, mais également de proposer de nouvelles hypothèses quant à la position chronologique des faciès du Néolithique ancien de la Méditerranée nord occidentale.
Fichier principal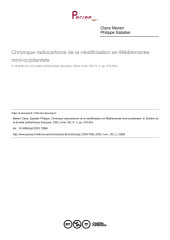 2003_Manen_Sabatier.pdf (3.49 Mo)
Télécharger le fichier
Origin : Explicit agreement for this submission