Hospital Chains in India: The Coming of Age?
In many countries, the provision of hospital care is turning into an industry with the increasing presence of large corporate hospital chains. Along with public agencies and small private operators, corporations are now investing in the Indian hospital sector. Since the 1980s, health sector reforms and the liberalization policy in India have created new profit-making opportunities in the health care market for local and international corporations. A new pro-market regulatory environment has helped private corporations to invest in the hospital sector. While the demand for hospital care has increased in India, public and private hospital care providers failed to deliver not only in terms of volume (i.e. number of beds) but also in term of quality of care. With such an untapped market and a favourable regulatory environment, corporations see a tremendous growth potential in Indian hospital care. This paper documents the formation of corporate hospital chains in India, their increasing prominence in the delivery of hospital care, and central and state government's role in this transformation.
Dans de nombreux pays, les services hospitaliers se transforment en industrie avec la présence croissante de grandes chaînes hospitalières privée. A côté des agences gouvernementales, et des petits opérateurs privés, des entreprises investissent dans le secteur hospitalier indien. Depuis les années 1980, les réformes dans le secteur de la santé et la libéralisation de l'économie en Inde ont ouvert de nouvelles opportunités sur le marchés des soins pour les entreprises locales et internationales. Un environnement réglementaire favorable au marché a permis aux entreprises d'investir dans le secteur hospitalier. Alors que la demande de soins hospitaliers augmente, les opérateurs privés et publics traditionnels ont du mal à y répondre non seulement en termes de capacité (p.ex. le nombre de lits) mais aussi en termes de qualité des soins. Face à cette situation, et avec un environnement réglementaire favorable, les entreprises perçoivent un gisement de croissance majeur dans le secteur hospitalier indien. Le présent rapport documente la formation des chaînes hospitalières privées en Inde, leur proéminence croissante dans le secteur hospitalier, et le rôle du gouvernement central et des Etats de l'Union dans cette transformation.
Fichier principal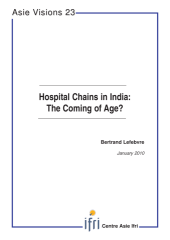 IFRI_asievisions23blefebvre.pdf (355.91 Ko)
Télécharger le fichier
Origin : Explicit agreement for this submission