Construction et reconnaissance des savoirs expérientiels des patients
Patterns of knowledge production and recognition in the field of health are witnessing deep changes: particularly for chronic pathologies, patients' specific expertise is now recognized as a source of knowledge: conventional strategies of therapeutic education as proposed by caregivers to improve treatment observance are completed by new trends from patients communities, which consider disease through its links to experiential training, even to autodidactic episodes. In this issue, this recognition of the patients' experiential knowledge which takes place in a multiplicity of locations - is first put back in the historical context of the constitution of the concept of health democracy, and then subjected to a literature review concerning the epistemological issues of therapy and power.
Les schémas de production et de reconnaissance des savoirs dans le domaine de la santé se modifient profondément : pour les pathologies chroniques notamment, les expertises propres aux malades émergent comme sources de savoirs : les stratégies classiques d'éducation thérapeutique, proposées par les soignants pour améliorer l'observance des traitements, se doublent de nouveaux courants issus des communautés de malades qui rattachent les maladies à des formations expérientielles, voire à des épisodes autodidactes. Après avoir été resituée historiquement comme constitutive de l'idée de démocratie sanitaire, cette reconnaissance des savoirs expérientiels des patients - en marche dans de multiples lieux - fait ici l'objet d'une revue de littérature qui en regarde les enjeux épistémologiques, thérapeutiques et de pouvoir.
Fichier principal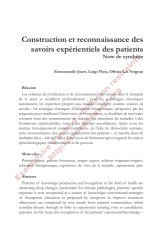 58-59synthese_sante_np.pdf (645.82 Ko)
Télécharger le fichier
Origin : Explicit agreement for this submission