Mission ornithologique aux îles Chesterfield, 12-16 décembre 2005
A bird survey was carried out with the assistance of the French Navy at the Chesterfield Islands, from 12 to 16 December 2005. Eleven species were observed on Loop Islet, including six breeding seabirds (brown booby, red-footed booby, masked booby, wedge-tailed shearwater, black noddy, common noddy), two non-breeding seabirds (sooty tern, Pacific frigatebird), two shorebirds (ruddy turnstone, tattler) and the buff-banded rail. The abundance of wedge-tailed shearwater and red-footed booby, estimated to reach around 1% or more of the entire Pacific population, make of the Chesterfield archipelago an area of global importance for their conservation. Loop Islet is also a nesting site for the green turtle.
Une mission de recensement des oiseaux a été menée avec le concours de la Marine nationale aux îles Chesterfield, du 12 au 16 décembre 2005. Onze espèces d'oiseaux ont été observées et recensées sur l'îlot Loop, dont six oiseaux marins nicheurs (fou brun, fou à pieds rouges, fou masqué, puffin fouquet, noddi noir, noddi brun), deux oiseaux marins non nicheurs (sterne fuligineuse, grande frégate), deux limicoles (tournepierre à collier, chevalier non identifié) et un râle (râle à bandes). Les abondances du puffin fouquet et du fou à pieds rouges, estimées à environ 1% ou plus de leurs effectifs pour tout le Pacifique, font de l'archipel des Chesterfield une zone d'importance mondiale, prioritaire pour leur protection. L'îlot Loop est aussi un site de ponte pour la tortue verte.
Fichier principal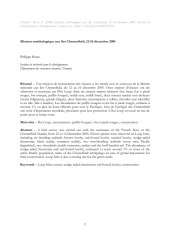 MissionChesterfield v2f.pdf (209.3 Ko)
Télécharger le fichier
Origin : Files produced by the author(s)