ANALYSE DES DÉTERMINANTS DE LA DIVULGATION SOCIÉTALE DANS LES RAPPORTS ANNUELS DES ENTREPRISES TUNISIENNES COTÉES
This research focuses on analyzing corporate social disclosure through the annual reports of 23 Tunisian listed firms over a four-year period from 2001 to 2004. This study's purpose is twofold. First, we assess the extent of corporate social disclosure. Second, we investigate the determinants of the decision to disclosure social information. A multivariate analysis of social disclosure is employed to test the factors influencing this type of disclosure. The findings in this study suggest that corporate social disclosure did increase from 2001 to 2004 and disclosure was primarily literal and products. Results, also, suggest that the degree of internationalization of the firms, their level of debt and their degree of political visibility are the main significant factors influencing the decision to corporate social disclosure.
Cette étude s'intéresse à l'analyse de la divulgation sociétale au sein des rapports annuels de 23 entreprises tunisiennes cotées pendant quatre ans de 2001 à 2004. L'objectif étant double: D'abord, évaluer le niveau et la nature de la divulgation sociétale. Ensuite, analyser les déterminants des décisions d'une telle divulgation. Les résultats obtenus démontrent que le volume de la divulgation sociétale suit une tendance haussière de 2001 à 2004 avec une dominance de la forme littérale. Le produit, constitue le thème principal de cette divulgation. Concernant les déterminants, il ressort des résultats de l'analyse par régression multiple que le degré d'internationalisation de l'activité de l'entreprise, son niveau d'endettement ainsi que son degré de visibilité politique constituent des déterminants des stratégies de la divulgation sociétale dans les rapports annuels.
Fichier principal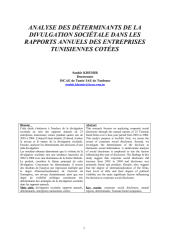 p75.pdf (259.5 Ko)
Télécharger le fichier
Origin : Files produced by the author(s)