DDR-Phraseologie oder Parteijargon? Ein Fallstudie am Beispiel von Goodbye, Lenin!
Dieser Beitrag ist einer phraseologischen Untersuchung von Wolfgang Beckers erfolgreichem Film Goodbye, Lenin! gewidmet. Ziel der Analyse ist es zu zeigen, dass viele meistens als SED-typisch betrachtete stilistische Züge aus phraseologischer Sicht untersucht werden können bzw. sollten. Nach einer im Sprachgebrauch verankerten Definition der ehemaligen DDR-Sprachvarietät, widmet sich der Hauptteil des Beitrags einer funktionalen Analyse der eingesetzten Sprachfertigteile, wobei auch ihre Rolle für die ironische Dimension des Films berücksichtigt wird.
This paper proposes a phraseological approach to Wolfgang Becker's successful film Goodbye, Lenin! It aims at showing that most of the stylistic features which are usually considered to be typical of the jargon used and imposed by the former East-German Communist Party (SED) can – and should – be also studied from a phraseological point of view. After giving a definition of the East-German variety as a variety in terms of the use of language, the main part of the paper offers a functional analysis of the phrasemes – prototypical and modified forms – used in the film, whereby we also focus on their role concerning the ironic dimension of the film.
Fichier principal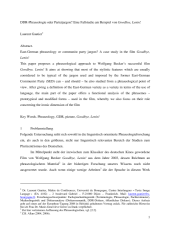 Article_Gautier_Revue_Cluj_version_def.pdf (79.93 Ko)
Télécharger le fichier
Origin : Files produced by the author(s)