Sémiotique et visualisation de l'identité numérique: une étude comparée de Facebook et Myspace
Digital identity is divided into 3 sign sets: (1) declarative identity, (2) acting identity and (3) calculated identity. This typology allows leading a quantitative analysis of cultural influence of identity representation in social web, through the comparative study of two social networks: Facebook and MySpace. Unlike early web, social web makes possible identification of a user without having to declare describing elements. The comparative analysis presented here continues this analysis by specifying the procedures of this new paradigm of identity and highlighting two different ideologies of identity, on the one hand, a normative one to stimulate socialization, on the other hand, an egocentric one for the sake of self-expression. "Calculated identity" encourages users to make comparisons between them and feed their representation, but increasing disproportionately the number of friends is not sufficient to play the social game as it is structured by Facebook: visualization shows that the social network is maintained by sharing. Sharing photos, participating in shared groups is a part of regular social interaction announcing the emergence of a new intersubjective language.
Un modèle sémiotique de l'identité numérique construit précédemment distingue 3 ensembles de signes : l'identité déclarative, agissante et calculée. Ce modèle est utilisé pour développer une analyse quantitative appliquée de l'emprise culturelle du web 2.0 sur la représentation de l'identité à travers l'étude comparative de deux logiciels de réseaux sociaux, Facebook et Myspace. Contrairement au premier web, le web social rend possible l'identification personnelle d'un utilisateur sans qu'il ait à déclarer des éléments qui le décrivent ; l'analyse comparée ici présentée poursuit cette analyse en précisant les procédés de ce nouveau paradigme identitaire et mettant en évidence des idéologies identitaires différentes, l'une normative par souci de socialisation, l'autre égocentrée par souci d'expression de soi. L'identité calculée incite les utilisateurs à établir des comparaisons entre eux et à nourrir leur représentation, mais il ne s'agit pas pour autant de jouer à accroître démesurément un critère comme le nombre d'amis pour jouer le jeu social : les graphes nœud-lien montrent que le réseau s'entretient par le partage. Partager des photographies, participer à des groupes communs fait partie des échanges sociaux réguliers qui annoncent l'émergence d'un nouveau langage intersubjectif.
Fichier principal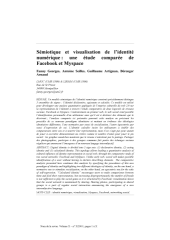 semiotique_finale.pdf (430.72 Ko)
Télécharger le fichier
Origin : Files produced by the author(s)