La chimie des glaces interstellaires: à la recherche des molecules du vivant? Interstellar ices chemistry: the search for the molecules of life?
Organic molecules observed in the interstellar medium (ISM) are provided by a chemistry, which takes place in extreme conditions (temperature of 10-20 K, very low pressures, very intense and energetic radiative fluxes). These molecules can be formed in solid phase on water ice surfaces where the ice is taken as a catalyst. In this article, we are interested in the composition and formation of the interstellar ices which are known from astrophysical observations, essentially from infrared spectroscopy. We show how these ices can be simulated in the laboratory and how they can evolve through photochemical and thermal reactions. In the last part, we show that in the current state of research, some indications allow astrochemists to think that the precursor molecules of the amino-acids and pyrimidic bases can be formed in interstellar space, opening way to the prebiotic astrochemistry.
Les nombreuses molécules organiques observées dans le milieu interstellaire (MIS) proviennent d'une chimie en conditions extrêmes, à savoir une très basse température de 10-20 K, une pression très faible et un environnement radiatif intense et très énergétique. Ces molécules peuvent se former en phase solide sur des surfaces de glaces principalement constituées d'eau qui jouent un rôle de catalyseur. Dans cet article, nous nous intéressons à la composition et à la formation des glaces interstellaires qui sont connues à partir de moyens d'observation astrophysiques, essentiellement grâce à la spectroscopie infrarouge. Nous montrons comment ces glaces sont reproduites en laboratoire et la manière dont les réactivités photochimiques et thermiques permettent de les faire évoluer vers la complexité moléculaire. Dans la dernière partie, nous montrons qu'en l'état actuel des recherches dans ce domaine, beaucoup d'éléments laissent penser que les molécules précurseurs des acides aminés et des bases pyrimidiques peuvent se former dans l'espace interstellaire, ouvrant alors la voie à l'astrochimie prébiotique. Mots-clés Astrophysique, astrochimie, photochimie, glace d'eau, chimie prébiotique, milieu interstellaire, spectroscopie infrarouge.
Fichier principal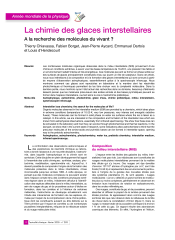 2005-283-fev-Chiavassa-p.12.pdf (422.18 Ko)
Télécharger le fichier
Origin : Publisher files allowed on an open archive