Zero is the only acceptable leakage rate for geologically stored CO2: an editorial comment
Leakage is one of the main concerns of all parties involved with the development of Carbon Capture and Storage. From an economic point of view, Van der Zwaan and Gerlagh (2009) suggest that CCS remains a valuable option even with CO2 leakage rate as high as of a few % per year. But what is valuable is, ultimately, determined by social preferences and parameters that are beyond economic modeling. Examining the point of view of four stakeholder groups: industry, policy-makers, environmental NGOs and the general public, we conclude that there is a social agreement today: zero is the only acceptable carbon leakage rate.
Le risque de fuite du carbone représente aujourd'hui l'une des préoccupations majeures des acteurs impliqués dans le développement de la technologie de Captage et Stockage du Carbone. Ce commentaire est une discussion autour des résultats de la recherche de Van der Zwaan et Gerlagh (2009) qui concluent à l'aide d'outils économiques que le CCS est une option envisageable même avec un taux de fuite de quelques % par an. Cependant, les préférences individuelles relèvent à notre avis davantage d'une convention sociale que d'hypothèses de modélisation. Dans une perspective plus ample, il apparaît ainsi essentiel d'examiner le CCS non seulement sous l'angle de l'efficacité économique, mais également sous celui du respect des conditions d'acceptabilité sociale, politique et technique du contrôle des risques liés au CCS. Aujourd'hui, ces conditions suggèrent que le seul niveau de fuite acceptable est le taux zéro. Pour le montrer, nous analysons le concept de fuite de carbone selon le point de vue de quatre parties prenantes: l'industrie, le régulateur, le public et des ONG environnementales. Le processus actuel de confrontation des positions ne pourrait conduire à un compromis sur une niveau de fuite socialement accepté non nul que dans les décennies à venir.
Fichier principal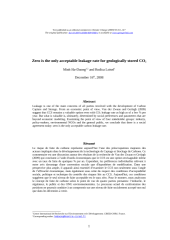 SpringboardEditoFormattedAsPolicyNote.pdf (103.85 Ko)
Télécharger le fichier
Origin : Files produced by the author(s)