Des correctifs de sécurité à la mise à jour
La complexité toujours croissante des logiciels implique un accroissement des bogues. Ces derniers restent le vecteur principal d'attaque des pirates informatiques et imposent aux éditeurs logiciels d'émettre régulièrement des mises à jour pour leurs corrections. Cependant, peu d'utilisateurs sont prêts à arrêter leurs applications et à investir le temps nécessaire pour mettre à jour leur poste de travail. Dans les faits, les correctifs sont rarement déployés, même quand ceux-ci sont critiques. Nous proposons un atelier de déploiement permettant à un administrateur système d'appliquer à chaud, à distance et sans l'intervention des utilisateurs, des rustines de sécurité. Pour éviter l'arrêt des logiciels concernés, notre approche est basée sur un tisseur dynamique d'aspects, Arachne. Notre second outil, Minerve, s'intègre dans le processus de mise à jour standard : il prend en entrée une rustine source produite par difet génère, quand cela est possible, une rustine dynamique déployable à la volée. Il permet de consulter les rustines exprimées dans un langage dédié et facilite ainsi la tâche d'audit des mises à jour déployées.
–––––
The ever growing software complexity suggests that they will never be bugfree and therefore secure. Software compagnies regulary publish updates. But maybe because of lack of time or care or maybe because stopping application is annoying, such updates are rarely if ever deployed on users' machines. We propose an integrated tool allowing system administrators to deploy critical security updates on the fly on applications running remotly without end-user intervention. Our approach is based on an aspect weaving system, Arachne, that dynamicaly rewrites binary code. Hence updated applications are still running while they are updated. Our second tool Minerve integrates Arachne within the standart updating process: Minerve takes a patch produced by dif and eventually builds a dynamic patch that can later be woven to update the application on the fly. In addition, Minerve allows to consult patches translated in a dedicated language and hence eases auditing tasks.
Fichier principal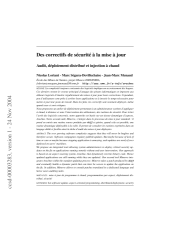 dcor.pdf (112.5 Ko)
Télécharger le fichier
Slide_Nicolas_Loriant.pdf (199.74 Ko)
Télécharger le fichier