Le dictionnaire des francophones, une plateforme lexicographique contributive et sémantique
The Dictionnaire des francophones (DDF) is a novel project that articulates lexicographic resources coming from scholars and from community contributions. These different resources take the form of a knowledge graph that evolves thanks to an innovative platform architecture combining state of the arts semantic web and big data technologies. This article proposes a guided tour of this platform, available online, and which illustrates some of the typical problems of Knowledge Engineering: the integration and interoperability of heterogeneous data sources, and the management of the life cycles of these same resources, including the management of contributions and access rights on an RDF graph. The article concludes with the prospects and next steps for this project set in the Open Linked Data and Software Commons ecosystem.
Le Dictionnaire des francophones (DDF) est un projet inédit de plateforme articulant ressources lexicographiques savantes et issues de contributions de la communauté. Ces différentes ressources prennent la forme d'un graphe de connaissances rendu accessible en lecture et/ou écriture par une architecture innovante alliant l'état de l'art des technologies du Web sémantique et du big data. Cet article propose une visite guidée de cette plateforme aujourd'hui accessible en ligne et qui illustre certaines des problématiques typiques de l'Ingénierie des Connaissances: l'intégration et l'interopérabilité de sources de données hétérogènes, et la gestion des cycles de vie de ces mêmes ressources, incluant la gestion des contributions et des droits d'accès sur un graphe RDF. L'article se conclut sur les perspectives et les prochaines étapes de ce projet s'inscrivant dans l'écosystème de l'Open Linked Data et des communs logiciels.
Fichier principal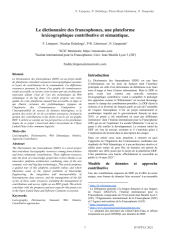 actes_IC_CH_PFIA2021_7-10.pdf (213.93 Ko)
Télécharger le fichier
Origin : Files produced by the author(s)