Chemical, anatomical and behavioural studies of STOP KO mice : an experimental model for schizo-affective disorders.
Caractérisations biochimique anatomique et comportementale des souris dépourvues de la protéines STOP : un modèle expérimental pour l'étude de symptômes psycho-affectifs
The microtubule-associated STOP (MAP6) protein plays a key role in neuron architecture and synaptic plasticity, the dysfunctions of which are thought to be implicated in the pathophysiology of psychiatric diseases. In line with this hypothesis, the deletion of STOP in mice leads to neuroanatomical, biochemical and severe behavioral alterations, partly alleviated by antipsychotics. In the present study, we first examined the likely monoaminergic alterations in STOP KO mice. In mutant mice, serotonin (5-HT) and norepinephrin (NE) markers are accumulated in the midbrain and, in contrast, deeply depleted in all forebrain projection areas. Moreover, these monoaminergic imbalance were associated with a depression-like behavior, a decreased anxiety status and impairments in learning and memory tasks. The effects of a chronic treatment by fluoxetine or by epothilone D, a taxol microtubule-stabilizing compound, on the mood status of STOP KO mice were also characterized. Chronic fluoxetine treatment induced paradoxical effets on depressive and anxious status of STOP KO mice, depending on the paradigm used, and probably due to hypersensitivity to stress. On the other hand, both epothilone D and fluoxetine chronic treatments improved the short-term memory of STOP KO mice. Altogether, these data indicate that the deletion of STOP protein in mice caused deep alterations in mood and cognitive performances and that STOP protein might have a crucial role in the 5-HT and NE networks development.
La protéine STOP (MAP6) associée aux microtubules joue un rôle clé dans l'architecture neuronale et la plasticité synaptique, dont les dysfonctionnements sont considérés comme étant impliqués dans la physiopathologie des maladies psychiatriques. En accord avec cette hypothèse, la délétion de la protéine STOP chez la souris, conduit à des altérations neuroanatomiques, biochimiques et comportementales, en partie atténuées par des traitements antipsychotiques. Dans cette étude, nous avons tout d'abord examiné les possibles altérations des systèmes monoaminergiques chez les souris STOP KO. Chez les souris mutantes, les marqueurs sérotoninergiques et noradrénergiques sont accumulés dans le mésencéphale et, au contraire fortement diminués dans toutes les régions de projections du cerveau antérieur. De plus, ces déséquilibres monoaminergiques sont associés à une augmentation du statut dépressif, une diminution du statut anxieux et des déficits dans des tâches d'apprentissage et de mémorisation. Les effets d'un traitement chronique par la fluoxétine ou par l'épothilone D, un composé analogue du taxol stabilisant les microtubules, sur l'humeur et les performances cognitives des souris STOP KO ont aussi été évalués. Le traitement chronique par la fluoxétine induit des effets paradoxaux sur le statut dépressif et le statut anxieux des souris STOP KO suivant les tests effectués, probablement à cause d'une hypersensibilité au stress. En revanche, les traitements chroniques à la fluoxétine et à l'épothilone D ont amélioré la mémoire à court terme des souris STOP KO. Dans l'ensemble, ces résultats indiquent que la délétion de la protéine STOP chez la souris induit de fortes altérations de l'humeur et des performances cognitives et que la protéine STOP pourrait avoir un rôle crucial dans le développement des systèmes monoaminergiques.
Fichier principal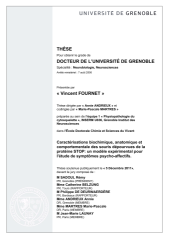 23319_FOURNET_2011_archivage.pdf (8.52 Mo)
Télécharger le fichier
Origin : Version validated by the jury (STAR)