La mise en jeu du corps dans l'activité de téléphonie
Staking body in call centers activities Call centers, that have emerged in the eighties, are built on vocal and data technologies. So, they stand as a proper object for analysis of information and communication activities. Activities approach lets place to body and can get other work practices than call phone only. So, literature about call centers shows places where the body is unshacked because it is unpluged of the technical device. These places let, on the one hand, to do the psychic elaboration to absorb the phone call stress, and, on the other hand, to create a group dynamism to involve the IT device. These places allow groups to exist for creative work and are the conditions to reduce bad working conditions in call centers.
Apparu au milieu des années quatre vingt dix, les centres d'appels téléphoniques sont fondés sur une alliance du téléphone et de l'informatique. Ces organisations sont donc exemplaires pour analyser les activités de communication et d'information. L'approche par l'activité, en redonnant une place à la corporéité permet de saisir d'autres éléments du travail que la seule communication téléphonique. Ainsi, la lecture des travaux sur les centres d'appels montre qu'il existe des espaces où les corps sont désentravés car débranchés du dispositif. Ces espaces permettent, d'une part, le re-travail des chocs émotionnels induits par la relation téléphonique et, d'autre part, la création d'une dynamique collective pour faire évoluer le système d'information au gré du travail. Sans ces espaces pour un agir créatif collectif, les mauvaises conditions de travail dénoncées dans les centres d'appel ne pourront disparaître.
Fichier principal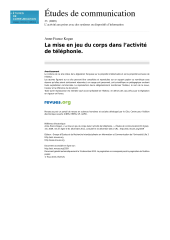 edc-1059-33-la-mise-en-jeu-du-corps-dans-l-activite-de-telephonie.pdf (123.79 Ko)
Télécharger le fichier
Origin : Publisher files allowed on an open archive