Chronos vs. Kairos, quand les temps de l'organisation s'affrontent au lieu de se compléter : risques et paradoxes temporels du changement organisationnel
In the organization theories, the concept of time is often used as an implicit framework to estimate the concept of movement or change. However, in many disciplines, in natural sciences as in social sciences, to understand further the complexity of causalities studied, time became an explicit concept. To underline the interest of a similar approach in organization theories, we propose the case of study of a company which meets some deep organizational dysfunctions following an effort of rationalization of its activities. The discussion of the results enables us to propose that a unique perception of time in organization (Chronos) is able to limit the understanding of an organizational complexity to the point to elude one of the principal components of its balance (Kairos).
Dans l'ensemble des théories des organisations, le concept du temps est souvent abordé comme simple cadre implicite de l'action permettant seulement d'apprécier par sa variation la notion de mouvement ou de changement. Or, dans nombre de disciplines, aussi bien en sciences exactes qu'en sciences humaines, afin de rendre plus intelligible la complexité des causalités observées, le temps s'est progressivement départi de ce rôle d'implicite pour devenir un concept plurivoque. Pour souligner l'intérêt d'une approche analogue en théories des organisations, nous proposerons le cas d'étude d'une entreprise confrontée, suite à un effort de rationalisation de ses activités, à de profonds dysfonctionnements. La discussion des résultats obtenus nous permettra de proposer qu'une perception strictement monologique du temps (Chronos) est en mesure de limiter le degré de compréhension d'une complexité organisationnelle au point d'éluder une des composantes principales de son équilibre (Kairos) menaçant par la même les efforts pourtant consentis pour en optimiser les activités.
Fichier principal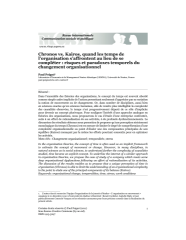 RICSP_Peigne_2011.pdf (293 Ko)
Télécharger le fichier
Origin : Publisher files allowed on an open archive