Contribute! Participate! Co-create! Setting up a cultural short supply chain
¡Contribuya! ¡Participe! ¡Co-cree! Aplicación de un circuito-corto cultural
Contribuez ! Participez ! Co-créez ! Mise en œuvre d'un circuit court culturel
When artists issue the idea of a cultural short supply chain to cope with various challenges of the cultural sector, the injunctions to creativity operate on several levels. A first level comes from media and local government agencies which echo and/or support the approach: it is an injunction to create event by putting forward innovation and difference. The second level implies an injunction to social innovation. Indeed, behind injunctions to contribution and participation, the founders of the project, the artists, invite citizens to invent new methods of embedding social values, at the various stages of their artistic activity. Lastly, a third injunction posed by contributors, requires the artists to propose artistic goods which abandon the formats imposed by the cultural industry.
Cuando artistas emiten la idea de un circuito-corto de la cultura para hacer frente a distinto lo que está en juego del sector cultural, las prescripciones a la creatividad operan a varios niveles. Una primera prescripción viene a de los medios de comunicación y colectividades locales para hacer eco y/o apoyar el planteamiento: una prescripción que debe alegarse lo que es innovador y diferente para hacer acontecimiento. Un segundo nivel devuelve a la prescripción a la innovación social. En efecto, detrás de las prescripciones a la contribución y a la participación, los artistas fundadores del proyecto invitan a los ciudadanos a inventar nuevas modalidades de ajuste del social a las distintas etapas de la actividad artística. Por fin, una prescripción colocada por los contribuidores a los artistas para que propongan bienes artísticos que salen de los formatos impuestos por las industrias culturales.
Quand des artistes émettent l'idée d'un circuit-court de la culture pour faire face à différents enjeux du secteur culturel, les injonctions à la créativité opèrent à plusieurs niveaux. Une première injonction vient des médias et des collectivités locales pour faire écho et/ou soutenir la démarche : une injonction à mettre en avant ce qui est novateur et différent pour faire évènement. Un deuxième niveau renvoie à l'injonction à l'innovation sociale. En effet, derrière les injonctions à la contribution et à la participation, les artistes fondateurs du projet invitent les citoyens à inventer de nouvelles modalités d'encastrement du social aux différentes étapes de l'activité artistique. Enfin, une injonction posée par les contributeurs aux artistes afin qu'ils proposent des biens artistiques qui sortent des formats imposés par les industries culturelles.
Fichier principal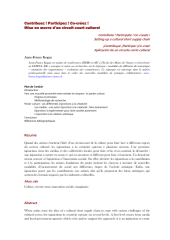 KOGAN AF Contribuez Participez Cocréez Les Enjeux n16_3B 2015.pdf (472.36 Ko)
Télécharger le fichier
Origin : Publisher files allowed on an open archive