Science Figures in Design Spaces
Figuras de la ciencia en contextos de diseño
Figures de la science dans des contextes de conception
After following two physicists involved in design situations for three years, we have focused on issues of the representation of science in design environments. Our hypothesis is that scientists modulate their posture and affirm certain aspects of science, by adopting several "roles," in the sense of Goffman, to allow new collaborations between disciplines. This analysis leads to the identification of the forms of "dramaturgy" of science, in the meaning of Habermas, by the formulation of five "figures" which appear in the speeches of the two physicists: the university professor, the "honnête homme" (cultivated man), the expert, the mentor-researcher and the scientist-creator. We observe that these figures are representative, but even more, that they are creative and lead to new design situations.
Nos interesamos en los retos de la representación de la ciencia en los medios de concepción a partir de la observación durante tres años de dos físicos implicados en situaciones conceptivos. Nuestra hipótesis es que los científicos adaptan su postura y afirman ciertos aspectos de la ciencia, adaptando varios "papeles" en el sentido de Goffman, con el fin de permitir nuevas colaboraciones entre los seguidores. Este análisis permite identificar formas de dramaturgia de la ciencia, en el sentido de Habermas, a través de cinco "figuras" sacadas de discursos de dos físicos: el profesor universitario, el hombre honesto, el experto, el mentor-investigador y el científico-creador. Observamos que estas figuras son representativas, pero aún más: son creativas y dan lugar a nuevas situaciones de concepción.
Nous nous intéressons aux enjeux de la représentation de la science dans des milieux de conception à partir d'une filature de trois ans de deux physiciens impliqués dans des dispositifs de conception. Notre hypothèse est que les scientifiques y modulent leur posture et y affirment certains aspects de la science en adoptant plusieurs « rôles », au sens de Goffman, afin de permettre de nouvelles collaborations entre les disciplines. Cette analyse permet de repérer des formes de dramaturgie de la science, au sens de Habermas, au travers de cinq « figures » tirées des discours des deux physiciens : « le professeur universitaire », « l'honnête homme », « l'expert », « le chercheur-mentor et le scientifique-créateur ». Nous observons que ces figures sont représentatives mais plus encore, qu'elles sont créatives et donnent lieu à de nouvelles situations de conception.
Fichier principal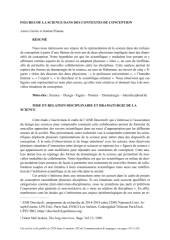 Gentès,Peneau, Figures de la sciences dans des contextes de conception - Hal-03120684.pdf (394.21 Ko)
Télécharger le fichier
Origin : Files produced by the author(s)