Stratégies du voyageur : analyse croisée d'entretiens semi-directifs
This article fosters the understanding of passenger behaviours following a research conducted within three commuter rail lines of Paris. As a starting point, semi-structured interviews with passengers outlined the behavioural key-drivers. The consolidated corpus has then been analyzed through several steps by combining two methods: a manual thematic analysis widespread in social psychology and a textometric analysis. The resulting findings are presented herein as well as insights on the joint-use of the two aforementioned approaches, both for richness of analysis and analytical protocols.
La présente communication s'inscrit dans le cadre de travaux de recherche sur la compréhension du comportement des passagers de trois lignes de train franciliennes. Ces travaux ont débuté par une première phase exploratoire à partir d'entretiens semi-directifs afin d'identifier les déterminants des comportements des passagers. Le corpus d'entretiens a été analysé en plusieurs étapes en associant deux méthodes d'analyse : une analyse thématique manuelle traditionnellement utilisée en psychosociologie et une analyse textométrique. Nous présentons les résultats d'analyse ainsi qu'une réflexion autour de l'usage conjoint de ces deux approches, du point de vue de la richesse d'analyse et du protocole d'analyse.
Fichier principal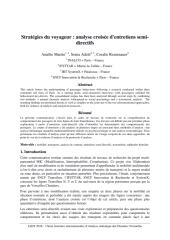 doc00025642.pdf (108.06 Ko)
Télécharger le fichier
Origin : Files produced by the author(s)