Conception d'une interface innovante pour la gestion de flux de trafic aérien
The activity of air traffic flow management is complex and involves a large number of actors. The increase in the volume and complexity of air traffic has also led to the increase in the importance of this activity: it is indeed more economical to make a plane wait for the ground than to turn it in flight in order to absorb deadlines to meet a rate of arrival at the runway. Anticipating potential airspace capacity exceedances from estimated aircraft arrival times to derive new take-off times for a particular set of flights is very complex. Moreover, the number and the level of adequacy of the current tools for this type of activity is quite limited : those are independent without any real consistency. In this context, it is interesting to propose a dedicated interface that can provide relevant support for this activity. It is with this objective that the design of the IODA prototype (Innovative Operations for Departures and Arrivals) was considered. This paper aims at illustrating through the IODA tools and its design the application of principles in terms of representations and innovative interactions to a flow management working position.
L'activité de gestion de flux de trafic aérien est complexe et implique un grand nombre d'acteurs. L'augmentation du volume et de la complexité du trafic aérien a amené par ailleurs à l'accroissement de l'importance de cette activité : il est en effet plus économique de faire attendre un avion au sol que de le faire tourner en vol pour absorber un délai afin de respecter une cadence d'arrivée à la piste d'atterrissage. Anticiper des dépassements de capacité éventuels à une piste (ou sur des volumes de l'espace aérien) à partir d'estimations d'heures d'arrivée des avions pour en déduire de nouvelles heures de décollage pour un ensemble déterminé de vols est très complexe. Par ailleurs, le nombre et le degré d'adaptation des outils à ce type d'activité est assez limité actuellement: ces derniers sont indépendants sans réelle cohérence entre eux. Dans ce contexte, il est intéressant de proposer une interface dédiée qui puisse fournir un support pertinent à cette activité. C'est dans cette optique qu'a été envisagée la conception du prototype IODA (acronyme pour Innovative Operations for Departures and Arrivals). Cette communication cherche à illustrer, au travers de l'outil IODA et de sa conception, l'application de principes en terme de représentations et d'interactions innovantes à une position de travail associée à la gestion de flux.
Fichier principal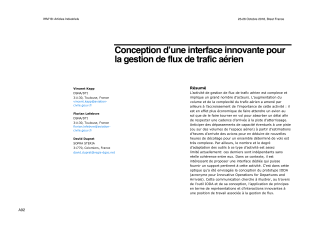 A92-Kapp.pdf (2.27 Mo)
Télécharger le fichier
Origin : Files produced by the author(s)