Iʿrāb… à théologie variable ?
In the wake of the debates surrounding iʿrāb, this article deals with the stance of those grammarians who explicitly opposed this concept from within the Arabic grammatical tradition itself. In analysing in particular the texts of Quṭrub (d. 206/821), Ibn Ǧinnī (d. 392/1002) and Ibn Maḍāʾ (d. 592/1196), the article shows that their critiques are not primarily motivated by linguistic reasons. Instead, it notes how iʿrāb – having taken a central position in grammatical theories as well as in the linguistic ideology about Arabic, to the point of becoming a real credo – can end up questioning theological beliefs: when the theoretical premises of this concept are no longer acceptable for such extralinguistic reasons, the theory of iʿrāb is rejected both on the theological and the grammatical level.
Dans le sillage des débats autour de l'iʿrāb, cet article s'intéresse aux positions de ces grammairiens qui, à l'intérieur même de la tradition grammaticale arabe, se sont explicitement opposés à la théorie de l'iʿrāb. En étudiant en particulier les propos de Quṭrub (m. 206/821), d'Ibn Ǧinnī (m. 392/1002) et d'Ibn Maḍāʾ (m. 592/1196), il s'efforcera de montrer que les critiques de ces auteurs ne relèvent pas, au premier chef, de raisons linguistiques. L'article souligne comment l'iʿrāb, ayant pris une position centrale dans les théories grammaticales et dans les idées sur la langue arabe au point de devenir un vrai credo, peut finir par concurrencer des croyances d'ordre théologique et, lorsque les prémisses conceptuelles de son fonctionnement ne sont plus compatibles avec ces dernières, la théorie de l'iʿrāb est alors rejetée tant sur le plan théologique que grammatical.
Fichier principal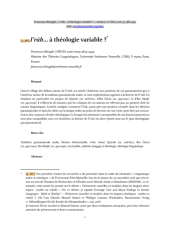 Binaghi (2021) Iʿrāb… à théologie variable - Arabica 68:4 [pre-print HAL].pdf (287.37 Ko)
Télécharger le fichier
Origin : Files produced by the author(s)
licence : CC BY NC ND - Attribution - NonCommercial - NoDerivatives