La Distinction entre Noms Massifs et Noms Comptables. Aspects Linguistiques et Conceptuels
This book is devoted to the study of the linguistic distinction between mass nouns ("milk", "furniture", "disorder", "love"...) and count nouns ("cat", "team", "fight", "thing"...). Nouns of the first type are normally invariable, while nouns of the second can be freely used in the singular and the plural. After establishing that this is indeed a morpho-syntactic distinction, the book discusses the possibility of characterizing the distinction semantically. Existing research considers mostly nouns that apply to the material domain. This work, on the contrary, examines in detail both concrete and abstract nouns. It proposes to redefine the properties often attributed to mass nouns (distributive reference and cumulative reference), thanks in particular to a new notion of part. Concerning count nouns, it shows that no purely semantic property is necessary for a noun to be of this type. The book ends with an analysis of conversions (mass uses of count nouns and vice versa) and the role played by pragmatic factors in their interpretation.
Cet ouvrage est consacré à l'étude de la distinction linguistique entre noms massifs ("lait", "mobilier", "désordre", "amour"...) et noms comptables ("chat", "équipe", "combat", "chose"...). Les premiers sont normalement invariables, tandis que les seconds s'emploient librement au singulier et au pluriel. Après avoir établi qu'il s'agit bien d'une distinction morpho-syntaxique, l'ouvrage discute la possibilité de caractériser sémantiquement cette distinction. Les recherches existantes ne tiennent compte, essentiellement, que des noms s'appliquant au domaine matériel. Ce travail, au contraire, examine en détail aussi bien les noms concrets qu'abstraits. Il propose de redéfinir les propriétés souvent attribuées aux noms massifs (références distributive et cumulative), grâce, notamment, à une nouvelle notion de partie. Concernant les noms comptables, il montre qu'aucune propriété purement sémantique n'est nécessaire pour qu'un nom soit de ce type. L'ouvrage se termine par l'analyse des conversions (emplois massifs des noms comptables, et vice versa), et du rôle qu'y jouent les facteurs pragmatiques.
Fichier principal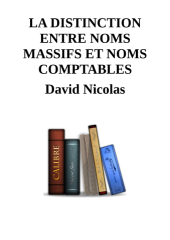 Nicolas_Massif-Comptable.pdf (1001.49 Ko)
Télécharger le fichier
Origin : Files produced by the author(s)