Mécaniser l'écriture et photographier la parole :
utopies, monde du bureau et histoires de genre et de techniques.

Mechanizing writing and photographing the word:
utopias, office work and histories of gender and technology.
Aux débuts de cette investigation, une image familière : la dactylo, cette collaboratrice incontournable des administrations et des entreprises avant l'ère informatique, ce personnage popularisé depuis le début du siècle par les romans, les pièces de théâtre, les films. Une réalité et un mythe, une ambition pour les femmes mais aussi et bientôt une limitation de cette ambition. Dans tous les cas une figure centrale pour une histoire du travail féminin au 20e siècle. En arrière-plan l'univers des bureaux, un monde en pleine mutation à la fin du siècle dernier. Les activités administratives s'affirment, les entreprises industrielles et les commerces s'organisent à une plus large échelle, les emplois augmentent considérablement en même temps qu'ils se diversifient et se féminisent. L'accomplissement du travail administratif est de plus en plus médiatisé par des objets et artefacts. Des outils matériels nouveaux (téléphone et télégraphe, machines à écrire et à calculer, systèmes et mobiliers de classement) mais aussi intellectuels (signes, formalismes, graphes, plans, statistiques, probabilités) accompagnent ces transformations et jouent un rôle de plus en plus net dans l'organisation et le contrôle de la vie économique et sociale.

−−−−−
This article deals with the history of the profession of shorthand typing and more generally, of the transformations which took place in offices from the end of the 19th century onwards, when the acceleration of writing production became a new economic imperative. A series of figures, projects, and practices are cited in order to analyze the conditions surrounding the emergence and the development of a profession as well as the reasons for, and consequences of its feminization in France. The joint development of a practice and a profession centered on the Remington typewriter and shorthand emerges as one outcome among other future or existing practices. Inventors, propagandists, manufacturers, amateurs, and professionals participated in this history, a history which shows how diverse the milieus involved in the mastery of specific techniques were, how relative the motives and criteria put forward to enhance and promote them were, and how different the meanings and values given to them could be.
Fichier principal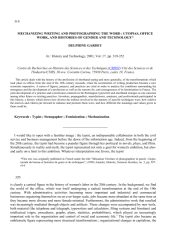 gardey_mechanizing_writing.pdf (242.29 Ko)
Télécharger le fichier
gardey_mecaniser_ecriture.pdf (267.99 Ko)
Télécharger le fichier