La correspondance de D'Alembert : un réseau européen ?
D'Alembert spent all his life in Paris, which he left only for four short stays, visiting both Frederick of Prussia and Voltaire two times, and for some holidays in the surrounding countryside. Quantitative study of d'Alembert's correspondence outside France shows the intensity of his european exchanges. They are made up half of letters with Frederick of Prussia, Voltaire and Lagrange, half of exchanges with correspondents who set up a diversified network – partly pieced together, but incomplete. Here can be found scientific correspondences (Euler, Cramer, Fri - si), correspondences linked to academic activities (Formey, various secretaries of european academies), and from 1772 on, correspondences linked to his work as permanent secretary of the French Academy. Here can also be found correspondences linked to Mlle de Lespinasse's and d'Alembert's circle, where travellers and ambassadors (Hume, Galiani, Caracciolo, Dutens, etc.) enthusiastically debated during their stay in Paris.
Une representation des relations de d'Alembert hors de france: La correspondance est souvent présentée comme le corpus idéal d'étude des relations de médiation, de légitimation et d'information qui lient les savants du dix-huitième siècle entre eux, et permet de comprendre les interactions entre les Académies, les Universités, les pouvoirs politiques ou religieux, l'encyclopédisme et la montée en puissance des périodiques, variables selon les régions et les savoirs. Comment donner une représentation quantitative de ces données ?...
Fichier principal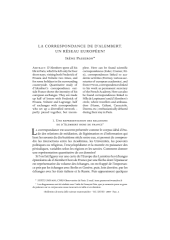 Trente.pdf (284.99 Ko)
Télécharger le fichier
Origin : Files produced by the author(s)