La mémoire de D'Alembert sur lui-même
This manuscript written by D'Alembert himself, probably at the end of his life, is our main source of information concerning many biographical details about his early studies and provides an interesting complement to the reflections on teaching contained in his article Collège. It is also a relatively rare self-portrait of the career of a 'man of letters'. As the 19th-century editions of the text are incomplete, we republish in this article the complete manuscript, followed by a note by Pierre Crépel concerning our information on D'Alembert's abandonment as a baby.
Ce texte autographe de D'Alembert, très probablement écrit à la fin de sa vie, est la principale source que nous ayons pour bien des détails biographiques de ses premiers apprentissages et constitue un complément très intéressant des appréciations qu'il a portées sur l'enseignement dans l'article Collège. Il est également un portrait, somme toute assez rare, d'une carrière de « gens de lettres » par l'intéressé. Les éditions du XIXe siècle disponibles étant tronquées, nous donnons ici le texte intégral du manuscrit. Ce texte est suivi d'une note de Pierre Crépel, « Le premier Noël de D'Alembert », sur ce que l'on sait de D'Alembert « enfant trouvé ».
Fichier principal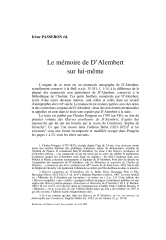 Le_memoire-de-D_Alembert.pdf (80.86 Ko)
Télécharger le fichier
Origin : Explicit agreement for this submission