Decision-Making and Artificial Intelligence: From Technical Mechanisms to Legal Concepts
Each decision-making process using artificial intelligence requires preparatory calculations. Each method delivers a set of justifications which are more or less precise for the decisions proposed. The method chosen is, in itself, part of the final decision and depends on the context and the knowledge available. Thus, it is difficult to know if a decision is due to the decision-making process, its use, or the knowledge on which it has been designed. Moreover, it becomes almost impossible to untangle the decision when the method itself has been chosen by a decision-making process, or when the knowledge that is inputted has been generated by another process. With this multidisciplinary complexity, the analysis of a decision may require several experts in order to discover which part of the process influenced the decision the most. It becomes "artificial" to determine who among the algorithm developer, the software manufacturer, and the user of the decision-making system is liable as such, and therefore burdened with contracting comprehensive insurance. Using a multidisciplinary approach, this article explores how the intrinsically collective dimension of a decision-making process can be translated into French civil law.
Chaque processus d'aide à la décision utilisé par une intelligence artificielle nécessite des calculs préparatoires. Chaque méthode apporte un ensemble de justifications plus ou moins précises sur les décisions proposées. La méthode choisie est en soi une part de la décision finale, et elle dépend du contexte et des connaissances disponibles. Ainsi, il est difficile de savoir si une décision est due au processus d'aide à la décision, à son utilisation, ou encore à la connaissance sur laquelle le processus a été conçu. Mais il devient pratiquement impossible de démêler la décision lorsque la méthode est elle-même choisie par un processus d'aide à la décision ou encore lorsque les connaissances sont générées automatiquement par un autre processus. Avec cette complexité multidisciplinaire, l'analyse de la décision nécessiterait de faire appel à plusieurs experts afin de découvrir quelle partie du processus l'a le plus influencée. Entre le(s) concepteur(s) de l'algorithme, le fabricant du logiciel et l'utilisateur du système d'aide à la décision, il devient « artificiel » de déterminer lequel constituera le débiteur de responsabilité, chargé aussi de s'assurer contre le risque. Cet article analyse, dans une perspective pluridisciplinaire, comment traduire sur le plan du droit français la dimension intrinsèquement collective d'un processus d'aide à la décision.
Fichier principal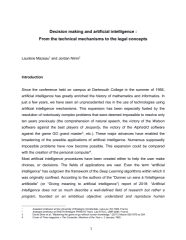 MAZEAU-NININ (1).pdf (281.77 Ko)
Télécharger le fichier
Origin : Files produced by the author(s)